New building projects for the industrial sector - particularly on new logistics/warehousing space - is set to remain one of the most the promising source of new contracts for the construction industry this year.
After a spectacular 55% increase in the value of project starts last year, the Glenigan UK Construction Industry Forecast 2022-2024 predicts that the sector will see a further 11% rise in starts this year as developers get underway with the strong work pipeline in the sector.
Although the momentum in the industrial sector may slow in the coming couple of years as online retailers rein in investment, the mood amongst developers and agents in the sector remains upbeat.
Record take-up of industrial space
A report this month from agent CBRE showed that the take-up of UK logistics space by occupiers in the first half of 2022 reached a record 22.56 million sq ft, up 10% on the period last year. In what is a reflection of the shortage of new warehouse space, the vacancy rate fell to a new low of just 1.2%. Moreover, the report said that weaker demand for warehouse space from online retailers - notably Amazon - has been more than offset as logistics firms and manufacturers have become more active.
The CBRE report also underlines the healthy demand for newly-built warehouse space with 'build-to-suit' accounting for almost half of the space taken up in the first six months of this year, new speculative space a further third and second-hand space, just a fifth. The West Midlands saw the strongest levels of take-up followed by the East Midlands and the North West.
Earlier this year, Segro, the country's largest industrial developer, said it was continuing to grow its development pipeline. It pointed to strong demand for industrial space across Europe from an increasingly diverse range of businesses.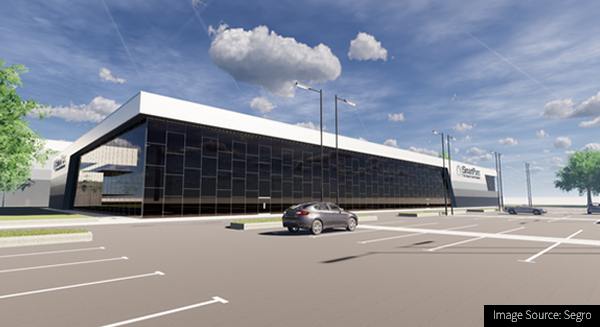 Today, much of Segro's focus is on speculative developments mainly on urban warehouse projects. In all, it has some 195,200 sq m of UK space approved or under construction including urban schemes in West and North London, new data centres in Slough and a new development where construction is set to run for five years, SmartParc Derby (Project ID: 20313169).
Segro also has a healthy near-term development pipeline. Last February, the group said that over the next 6-12 months it expects to start work on schemes involving a further 334,100 sq m of space (although some is on the Continent), with capital spending of around £271 million.
Bonus to logistics sector from freeports
The government's scheme to promote freeports – local areas which offer tax and customs breaks to businesses – should also be a bonus to new construction activity in the industrial/logistics sector. A recent Big Shed Briefing report on the sector from Savills noted a surge in the take-up of large industrial units along the eastern stretch of the A14, leading to the Port of Felixstowe, which is being driven by international firms attracted to the area by the launch of the local Freeport East initiative.
Construction work on one large new unit in the Freeport East area - a 1.2 million sq ft logistics unit at the Gateway 14 site near Stowmarket and let to home products retailer, The Range - is due to start in January (Project ID: 15046115).
Glenigan data reflects the strong activity in the sector with numerous examples of warehouse and logistics projects of all sizes in the pipeline.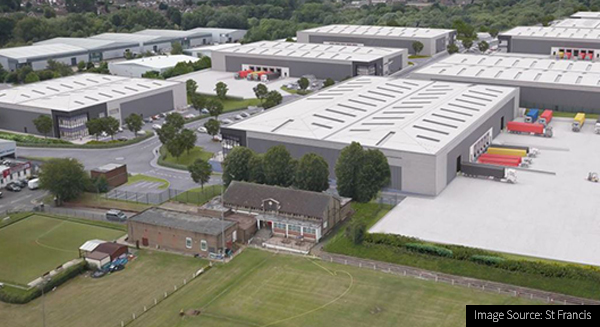 Tenders have recently been returned, for example, on a £40 million project of eight industrial units and a warehouse & logistics hub at Eckersall Road in Birmingham for client St Francis Group. Work is due to start early in 2023 and run for 25 months (Project ID: 20352083).
Meanwhile, plans have recently been approved for a £107 million warehouse and distribution centre for Next at Wakefield in West Yorkshire. Work on the 116,400 sq m scheme is due to start next January and run for 12 months (Project ID: 21460759).
Glenigan customers can see details of new Logistics and warehousing construction work if part of your subscription.
Not a Glenigan customer, but would like to see detailed sales leads for new Logistics and warehousing construction work? Request a free demo of Glenigan today so we can show the size of the opportunity for your business.