Work in the community & amenity sector is improving with signs that the government's Levelling Up initiative is stimulating new projects in the pipeline.
Glenigan's construction industry research shows that the value of underlying community & amenity projects given planning permission leapt by 61% in the three months to July 2022 compared to the previous quarter.
This increase is feeding through to more work starting on site. In the latest quarter, the underlying value of community & amenity schemes (less than £100 million) starting on site rose 4% on the previous three months.
Glenigan economics director Allan Wilén comments: "Our research suggests that a number of schemes coming through the procurement pipeline are benefitting from the Government's Levelling Up Fund."
Levelling Up
The £4.8 billion Levelling Fund is supporting town centre and high street regeneration, local transport projects, and cultural and heritage assets. Grants are being made by the Department for Levelling Up, Housing and Communities - previously the Ministry for Housing, Communities and Local Government – and are proving a vital source of funds for council-led community projects.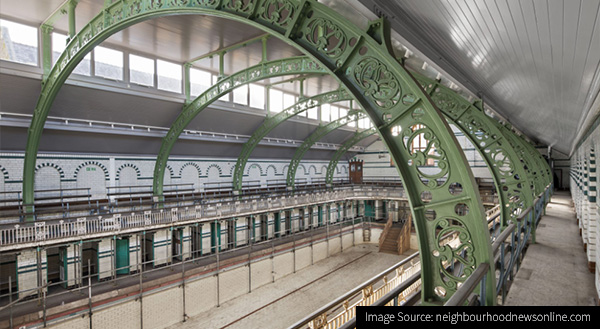 The first bids were awarded in October 2021 with £1.7 billion distributed to 105 schemes, such as Birmingham City Council's £32.7 million plan to restore Moseley Road Baths and Balsall Heath Library (Project ID: 22314616). This project was awarded a £20m Levelling Up grant in the first round and Glenigan's industry intelligence shows that the council is now looking to recruit a design team.
Hinckley & Bosworth Borough Council's plan to create a National Science and Conservation Centre at Twycross Zoo also received a £19.9 million grant (Project ID: 19364974).
A £50 million plan to build a learning quarter in Wolverhampton was granted £20 million and work is being carried out in phases (Project ID: 17075649).
Second round
Glasgow City Council's plan to renovate Pollok Stables and Sawmill into a heritage and community centre also received a £13 million grant (Project ID: 21276588). As a result, the council submitted bids for seven new proposed schemes by the second round deadline of August 2, including one to support the regeneration of Possilpark (Project ID: 22205559).
Other local authorities looking for funding in the second round include Ipswich Borough Council, which has applied for £18 million in funding to build a new athletics centre and re-open Broomhall Lido (Project ID: 21099348).
The Levelling Up grants are not restricted solely to councils and bids can also be made by businesses, universities, voluntary and community sector organisations. For example, the Eden Project in Cornwall has applied for funding of £50 million in the second round towards a £125 million proposal to build an Eden Project North in Morecambe (Project ID: 18142649).
Following up
As these projects develop through the early stages of the construction process, this is showing up in Glenigan's industry data.
Community & amenity work slumped during the worst of the Covid-19 pandemic, but the latest quarterly figures show the value of work approved is up 78% on the same stage in 2020. As grants are made, Glenigan's construction market research will track the successful projects through to a start on site.
Glenigan customers can see details of all new community & amenity construction work if part of your subscription.
Not a Glenigan customer, but would like to see detailed sales leads for all new community & amenity construction work? Request a free demo of Glenigan today so we can show the size of the opportunity for your business.