Housing, student accommodation and office work are the key sectors driving construction in Leeds.
Build-to-rent (BTR) schemes are supporting housebuilding with the city attracting more than £200 million in BTR investment in 2022 according to Deloitte's latest Regional Crane Survey. This was the largest investment of any British regional city and 65% of residential developments under construction in the city centre are BTR and will provide 2,101 units.
Glenigan's construction industry research has identified more BTR schemes in the pipeline. Glenbrook is working on a £135 million scheme for 500 BTR apartments at Whitehall Riverside (Project ID: 22028684), while McLaren recently submitted plans for 464 BTR homes (pictured) at Wellington Square (Project ID: 23047720).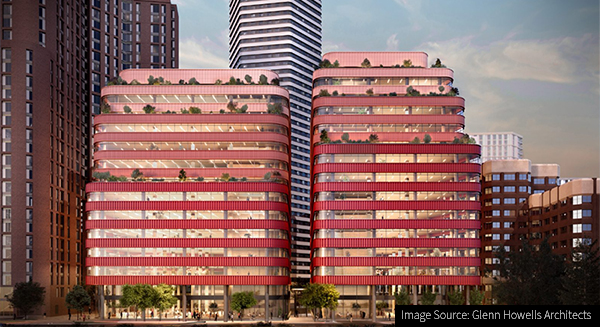 Student boom
Student residential work is booming in Leeds. Deloitte's research shows that 3,294 student beds were under construction in 2022, which is 48% up on the previous year.
Glenigan's construction industry research has identified student accommodation schemes underway including the £35 million Store House scheme at Grand Central Place (Project ID: 21558068) and the £22 million Live Oasis development for 210 flats at St Albans Place (Project ID: 19181838).
Glenigan's research shows other student accommodation developments in the pipeline in Leeds.
Contractors have returned bids for a £10 million student accommodation scheme for Primus Property at Sheepscar and work is expected to start this summer (Project ID: 08155676).
Elsewhere, L&S Leeds has applied for planning permission to build 108 student flats in a £10.8 million scheme at Park Cross Street (Project ID: 22315596).
Office plans
Office work has held up in Leeds as businesses look for 'amenity-rich and carbon conscious offices' according to Deloitte.
Tenders have been returned for Town Centre Securities' £19.1 million office scheme at Whitehall Road (Project ID: 19138192), while further out a team comprising Stamford Property, Southside Leeds and Shelborn are planning a £97 million office development at Holbeck (Project ID: 22198252).
Regional influence
Leeds is the main construction centre in the Yorkshire and Humberside region, where contracts were awarded on £1.2 billion-worth of schemes at an underlying level (valued below £100 million) in the three months to January 2023 according to Glenigan's construction industry information.
While many construction indicators are negative, the amount of work in the region securing planning has held up compared to a year ago. The underlying value of projects given detailed planning permission in the three months to January 2023 was £1.5 billion.
Top contractors
The top contractor in the Yorkshire region in the 12 months to January 2023 was Kier with an order book of £525 million, including work in Leeds. This ranges from a £15.3 million refurbishment of Leeds Town Hall (Project ID: 19329685) due to start in August to a £41.2 million bus enhancement scheme starting this spring (Project ID: 22113728).
Wates was ranked second in Yorkshire and work in Leeds helped the group achieve this position. This includes a £35 million refurbishment of the Grade I listed Temple Works building on Marshall Street to form new office space (Project ID: 16057676) to the Store House student accommodation development.
Future plans
As a city, Leeds has been "future-focussed" according to Deloitte. Providing this continues, the consultant sees a bright future, saying: "We will likely see a continuation of the positive sustainability, innovation and amenity-led themes and aspirations currently materialising across Leeds."
Glenigan customers can see details of all new construction work in Leeds if part of your subscription.
Not a Glenigan customer, but would like to see detailed sales leads for new construction work in Leeds? Request a free demo of Glenigan today so we can show you the size of the opportunity for your business.