Since lockdown was eased on 4th July, a huge percentage of us Brits have chosen to staycation rather than venture further afield, due to travel restrictions, nervousness around flying, potential quarantines, furloughs, and a wider concern around recession and financial security. Plus, GBP isn't nearly as strong as it was, thanks to Brexit.
As a result, staycations are booming this summer and demand is far outsripping supply. After the government announced that travellers returning from France would need to quarantine, Awaze, the company that owns Hoseasons and cottages.com, two of the UK's largest holiday cottage operators said the company has received 1m calls in July. Typically, they would have about 100,000 inquiries, according to the Financial Times.
But with potential for such a boom in domestic tourism, is the hotel & leisure construction pipeline ready to meet demand? What's currently in the development pipeline, and what can we expect to be delivered in the next couple of years to take advantage of this new demand?
Spike in Hotel & Leisure Detailed Planning Approvals
The development pipeline suggests that the sector has been expectant of growth for some time, and has even remained strong throughout lockdown and the COVID-19 emergency.
According to the latest Glenigan data, the total value of hotel & leisure approvals during the three months to July was 27% higher than the previous year with a total value of £1.75 billion.
Underlying approvals (under £100 million) performed best with YoY growth of 28%, and 47% growth on the preceding three months (seasonally adjusted). Underlying approvals added up to £1.41 billion during the period.
Underlying approvals were 29% up on the preceding twelve months, and major projects (over £100 million), were 20% up during the three months to July.
Hotels
The total value of hotel projects receiving detailed approval has been climbing ever since the Brexit referendum, with a particularly strong end to 2019 and beginning of 2020.
The value of approvals during the seven months to July 2020 has already surpassed the value of approvals in the entirety of 2017, and each of the years between 2013-2015.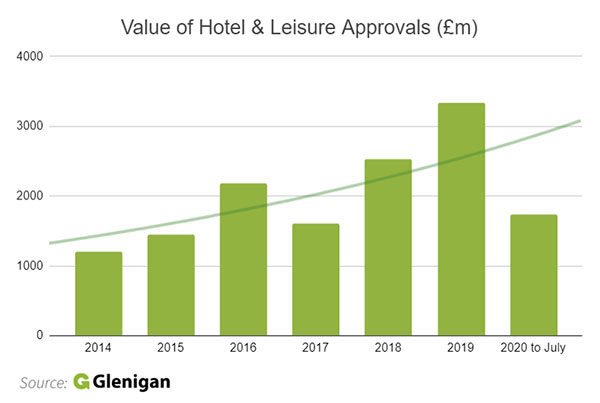 The budget hotel chains are certainly taking advantage of the staycation boom. Premier Inn has numerous projects in the pipeline, with 20 new hotels being granted detailed planning approval yet to start on-site. A new £25 million hotel in Westminster, where Gilbert Ash is the contractor, is due to commence on-site at the end of 2020, is one example (Project ID: 17055417).
Travelodge also has numerous developments in the pipeline, the biggest being a new £28 million hotel in East London. John Sisk & Son are due to commence on-site in September (Project ID: 18210295)
Away from the budget hotels, many major hotel developments are ready to move to site in the near future. The 30 Grosvenor Square Rosewood hotel in London is one of the most exciting. The £1 billion hotel, at the site of the former US embassy, is due to commence on-site in late 2020. Tenders have been returned. (Project ID: 16118198)
Resorts and Attractions
Besides hotels, the development pipeline is also healthy among the rest of the sector, with many major projects being granted detailed planning approval, yet to commence on-site. 
Of huge interest is the £500 million SnOasis Resort in Ipswich. The scheme is designed to create a world class winter sports resort, featuring 14 different year-round sports including ski slopes, an ice rink and rock climbing. The development will also include a 350-room hotel, 350 self catering chalets and a 200-room hostel (Project ID: 03511120). 
Therme Manchester is another resort in the pipeline. The 28-acre resort is the UK's first city-based wellbeing resort, which will create a tropical environment with warm-water lagoons. The £250 million scheme is due to commence on-site in 2021, with tendering due to commence imminently (Project ID: 19255727). Therme Group have also announced plans to build similar resorts in Wales, Scotland and London.
The new £337 million Museum of London is another exciting scheme that has been granted detailed planning approval this year. Tenders are currently invited, with main works due to commence next year (Project ID: 04234310).
Future attractions
Looking further into the development pipeline, there are some very exciting projects that could encourage more domestic tourism in years to come.
The £3.5 billion London Resort is quite possibly the most exciting project within the sector (Project ID: 12327258). Currently at the pre-planning stage, the scheme includes a new theme park, a 3,550-room hotel, and a conference centre. 
Traditional beach resorts are also planning for an increase in visitors. The Blackpool Central Masterplan (Project ID: 18427922), comprises new hotels, restaurants and the world's first 'flying theatre'. A planning application is anticipated to be submitted imminently, with works due to commence in 2021.
With Brexit, COVID-19 and recession all likely to boost staycations over the coming years, it's crucial that the Hotel & Leisure sector is ready to take advantage. With the development pipeline particularly strong, it's clear that with the amount of work ready to move to site, that the construction industry is ready to play its part.
Glenigan customers can find more details on all these projects via your subscription.
Not a Glenigan customer? Please request a free demo where we can show you more details on projects of interest to your business.