Construction work is recovering after the impact of lockdown with less disruption to site work, more project-starts, and more contract awards anticipated as the industry gets back to work.
Looking back at activity over the three months to the end of June, this is very welcome news. The sheer scale of the impact of lockdown is astonishing, with the value of projects starting on-site 45% down on a year ago!  
Project starts crashed
Project-start declines were evenly spread across both underlying project starts and major projects (of £100m or more). Major projects were 45% lower than a year ago, and underlying projects (under £100m) were 29% down on the previous three months on a seasonally adjusted basis.
Contract awards were up and down
Overall the value of contract awards averaged £3,762 million a month during the three months to June, a 36% drop on a year ago. The decline was led by a 52% fall in the value of underlying contract awards. In contrast, the value of major contract awards rose by 32% against a year ago to average £1,431 million a month.
Overall pipeline remained strong
The development pipeline improved during the second quarter, with the value of overall approvals 15% up against a year ago. The rise was driven by a 51% jump in the value of major projects securing planning approval. The value of underlying detailed planning approvals slipped by 2% against the preceding three months on a seasonally adjusted basis and was unchanged on a year ago.
Output
The decline in construction activity plummeted by 30% against a year earlier according to the latest data published by the ONS. 
Residential work suffered the greatest disruption with private new work, social new work and housing RM&I output falling by 43%, 42% and 40% respectively. In contrast Infrastructure and public non-residential output saw declines of 'just' 14% and 15%.  
The disruption to work on-site was greatest during April. Output during May rose by 8% against the preceding month as more sites re-opened, although output was still 40% down on a year earlier. 
The CIPS Construction Index suggests that construction activity improved further during June. At 55.3 the June index points to a marked increase in total construction output against the preceding month. Any figure above 50 figures indicates a rise in output. 
Positive outlook
While there's still a long way to go until the market gets back to a normal, our data shows that the most immediate, debilitating effects of the pandemic and lockdown are easing, and we're now entering a phase of recovery.
The planning pipeline is showing positive signs, with applications on an upward trend since May. Decisions are recovering and following the trend of increasing applications.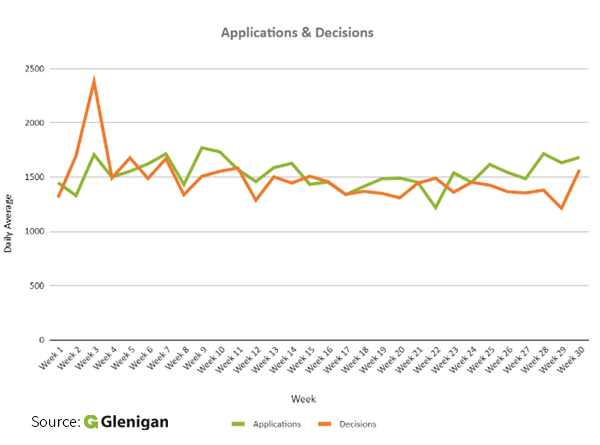 And the positive trend continues with a 49% month-on-month increase in the underlying value of main contracts awarded in June, which is just 4% down on 2019 figures.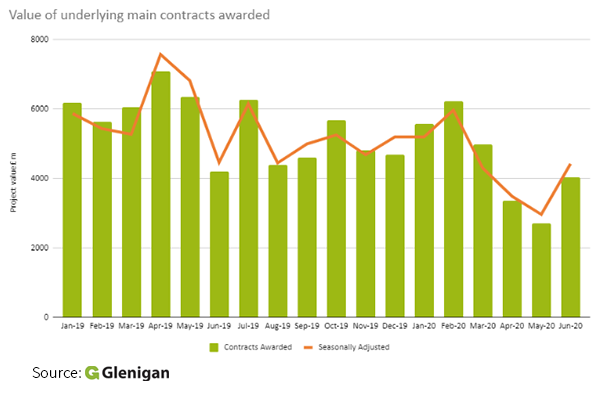 Project-starts bounce back
In terms of suspended projects reopening, this has slowed, as firms have focused on the most profitable and most appropriate sites to reopen first, leaving a small percentage of more challenging sites still to resume. 
Currently, just 5% of sites remain closed and over half of those sites are in Scotland or Northern Ireland; but even here the number of suspended sites has fallen sharply over the last two weeks. In Scotland 28% of sites are yet to reopen, and just 29% in Northern Ireland.
With the dramatic disruption thankfully behind us, the market is starting to shift gear and focus on rebuilding. 
Glenigan customers can read a full breakdown of the impact of lockdown in the full Glenigan Construction Review from their insight pages.
Not a Glenigan customer? Please download the free Glenigan Construction Review here.