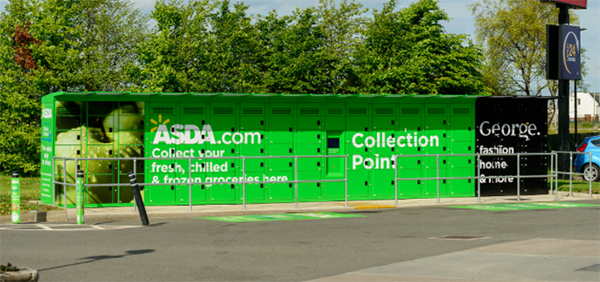 The impact of the COVID-19 pandemic on grocery retail has been monumental. Retailers are activating and accelerating their online and offline strategies at a pace never seen before as their customers' needs and expectations changed literally overnight. 
There's been a lot of talk about Amazon being ready for this seismic shift in consumer behaviour, but in reality even Amazon wasn't prepared. To meet the huge surge in orders in the first quarter the company needed to vet and hire 175,000 additional employees worldwide just to meet the increased demand.
If Amazon wasn't ready, then what hope did high street grocery retailers have?
Although Amazon has clearly been very successful in ramping up their logistics and fulfilment services since the end of the first quarter, the UK's grocers have largely been playing catch-up.
So what have UK grocers been doing and what do they have planned to ensure they can maintain and win market share?
Local and convenience
Barclaycard data shows that spending at local off-licences, greengrocers and convenience stores rose by almost 40% in April. And recent Co-op figures support this, as the chain saw like-for-like sales in food, which strip out the effect of new shops opening, increase by 8.8% in the six months to 24 July. 1.7 million new households had shopped at a Co-op store for the first time during the pandemic, and total revenues for the group increased by 7.6% to £5.8bn for the 26 weeks to 4 July, it said in its half-year results.
And it looks like the Co-op is banking on this trend continuing, as they continue with their plans to open more than three new food stores each week until December, over 50 by the end of 2020. This is part of their £130m store investment programme that includes 65 new and extended stores, with a further 100 outlets to receive a £500,000 major makeover each.
Added to this, the Co-op will also open 12 new franchise stores before the end of the year, including one at Oxford Brookes University (Project ID: 20354287) and Stirling University (Project ID: 18039349), with more university locations planned for 2021. 
Online ordering and fulfilment
Grocery retailers lacking ecommerce fulfilment and delivery infrastructure are developing new relationships with established delivery partners.
M&S has partnered with Ocado, which ended its 18 year partnership with Waitrose at the end of August. Waitrose has now added Deliveroo to its delivery roster to trial a new fast home-delivery service allowing customers to place and receive their orders in just 30-minutes. Deliveroo already offers 30-minute grocery deliveries from the Co-op and it has also started trials with Aldi.
Reducing contact
To address customer concerns over contact with others in-store, Asda is rolling out further Scan & Go features in its stores, using an instore handset, or its Scan & Go app. 
And we've seen increased applications by Sainsbury's, Asda and Morrisons for new Click & Collect facilities, including:
Sainsbury's have had plans approved for a new Click & Collect facility at their store in Williamson Road, in London, (Project ID: 20079387). And new Click & Collect pods are due to be completed early November at their new convenience store at Winchester Road in Bishop's Waltham (Project ID: 20307907).
Asda in St Austell have submitted plans to extend the rear of their store to house storage space for Click & Collect, and also to provide new Click & Collect bays, (Project ID: 19318013). And plans have been approved to reconfigure the home shopping facility at Asda in Cannock, (Project ID: 20235471). 
Morrisons in Worksop have also had plans approved for the construction of a store extension for home shopping (Project ID: 20308462).
Changing Channels
Sainsbury's opened 8 stores last month, including two food hall trials in Dobbies Garden Centres. The deal will allow Sainsbury's to sell its own-label range of more than 3,000 products, including fresh and frozen produce, ambient and chilled, as well as other grocery, household and toiletry lines. If the trial is successful it could open the door to the whole Dobbies Garden Centre estate of 68 stores nationwide. 
Sainsbury's is also pushing its wholesale ambitions by once again partnering with Euro Garages. The supermarket is supplying food-to-go lines at a small number of the 341 forecourt retailer's locations as part of a new pilot including own-brand sandwiches, wraps and salads, as well as 'food for tonight' items like ready meals.
Also partnering with Euro Garages is Asda with their 'Asda on the Move' stores which will be replacing existing Spa stores in Leamore (Project ID: 20354293) and Walsall (Project ID:20354290) within the next few weeks.
Loyalty and Differentiation
Tesco is driving customer loyalty even further this month with Clubcard price undercuts aimed at taking share from the discounters. The supermarket is seeking to use its 19 million loyalty cards customers as a point of difference against rivals. Prices have been cut by an average of 34%, with most of the reductions in the ice cream category, where it reduced the price of 65 products.
The Co-op has started an in-store collection system for "scrunchable" plastics, including carrier bags, yoghurt pots and food wrappers, which will be processed into waste disposal bin liners to be used by the retailer. And from 8th September, 50 Co-op stores across the South of England now act as collection points for a variety of single-use plastic items.
Morrison's have introduced a personalised florists service offering a bouquet service, and have also cut prices in their cafes. They are also offering a same day option for their deliveries. 
And Lidl has joined the loyalty scheme bandwagon, offering discounts if customers use their app.
Disruption
Finishing off as we began with Amazon, the online titan is again setting its sights on disrupting the retail landscape, this time actually on the high street as it prepares to open the UK's first cashierless store in Notting Hill Gate, London (Project ID: 20136162).
The new Amazon store will use the retailer's 'Just Walk Out' technology that uses a mix of camera, motion sensors and AI to monitor what customers are putting in their baskets then charges them using an app.
And we wouldn't be surprised to see other retailers adopting this same approach in the future, as Amazon is offering its 'Just Walk Out' technology to other retailers too. 
Glenigan customers can find more details on the projects covered in this article via your subscription.
Not a Glenigan customer? Please request a free demo where we can show you more details on projects of interest to your business.
PR contact:
Rick Stephens (Content Marketing Lead)
T: 01202 786 859 │ E: rick.stephens@glenigan.com