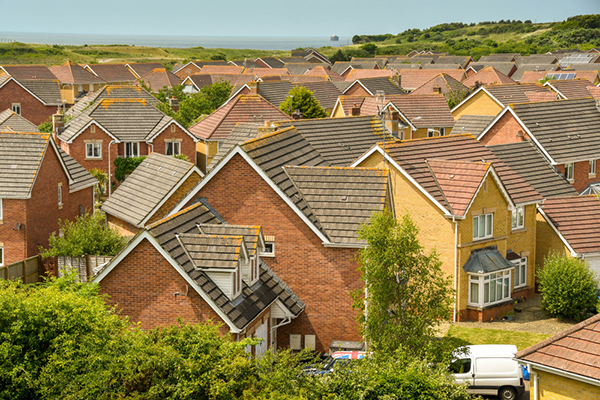 After a poor 2018, the underlying value of construction project starts in Wales will rise by around 16% this year according to Glenigan's construction market analysis.
Infrastructure work and housing both contributed to a 26% dive in starts last year but both will revive in 2019.
Glenigan economics director Allan Wilén said: "There have been deep peaks and troughs in Wales in recent years and there is the likelihood of another upturn this year as the underlying prospects appear positive with housing looking particularly strong."
Housing boost
The Help to Buy initiative was only introduced by the Welsh Assembly in January 2014. After taking time to filter through, private housing starts leapt 38% in 2016 but tailed off and last year brought a 12% fall according to Glenigan.
National House-Building Council data shows that starts were flat in 2018 but completions rose 6% and stronger growth, particularly in the Swansea area, is cautiously expected this year.
Paul Edwards, NHBC regional director for West & Wales, says: "Looking forward we hope this momentum continues into 2019 and beyond, although there is a nervousness over the Brexit outcome."
Social housing to boom
Social housing work has been the biggest impetus behind a recent rise in Welsh construction output.
Office for National Statistics data for the nine months to Q3 2018 shows a 25% rise in all-new build work in Wales. Private commercial work surged by 26% but the strongest growth in new-build work was in public housing, which was up 29%.
Registered social landlords are pressing on with more work and Glenigan's construction industry analysis suggests this growth will continue.
In 2018, the main RSLs from Wales itself submitted detailed plans to build 1,256 new homes according to Glenigan's research. This total, which only covers proposals by Welsh RSLs and excludes projects in Wales for English social housing groups, is up 54% on 2017.
There is also a change in home-type in the pipeline, prompted by the ban on leasehold properties.
In 2018, 70% of the units in detailed planning applications made by Welsh RSLs were houses and 26% were apartments.
In 2017, 38% of planned units were houses, 32% were apartments and 30% were retirement homes. Last year only 4% of proposed new homes in Wales were retirement units.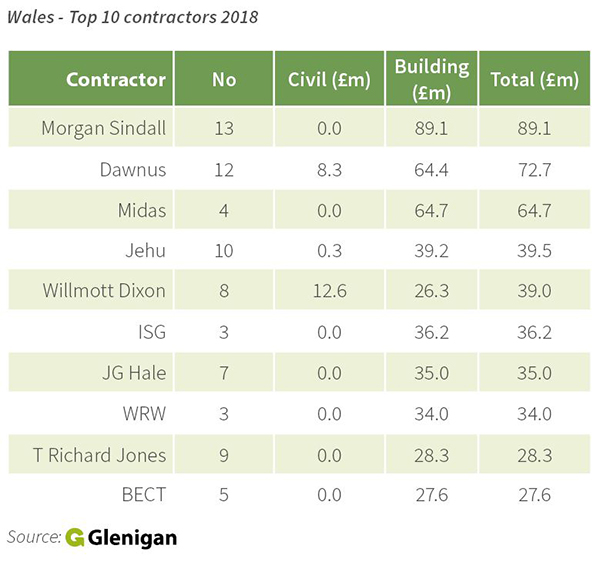 Short term outlook good
Morgan Sindall picked up the most work in Wales last year but their order book was only £89.1 million. This year, order books should be fuller as a host of major infrastructure schemes are slowly moving towards a start on site.
Although the Wylfa Newydd nuclear project has been put on hold, in January 2019 a public inquiry backed plans for the £1.4 billion M4 relief road scheme in southern Wales and the South Wales Metro is edging towards a start, further boosting confidence.
"We anticipate a strengthening in public sector and a rise in infrastructure projects at an underlying level as budgets are spent in the early part of 2019," added Mr Wilén. "With continued support from the private housing sector this will push up overall activity this year."