Residential, office and hotel work are set to keep the construction industry busy in Manchester according to Deloitte's latest Regional Crane Survey report for the city.
Deloitte expects that 20,000 people will relocate to the city over the next three years and this rate of growth will continue until 2035. Residential developers and housebuilders are anticipating this, and a swathe of schemes are in the pipeline according to Glenigan's construction industry research.
Plans were recently approved for Phase A of the Great Northern development (pictured) and this £33.2 million package will deliver 746 flats with work expected to start next year (Project ID: 19037280).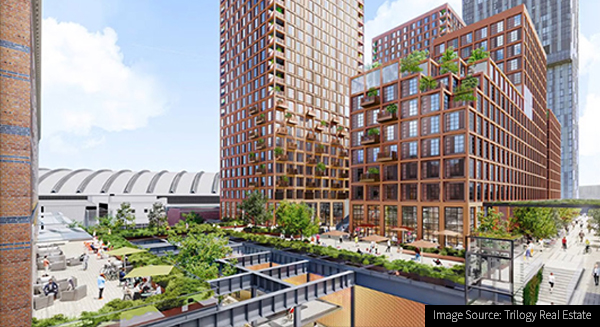 Elsewhere, Manchester Life Development Company is planning a £27.2 million scheme for 190 flats at Jersey Street in Ancoats (Project ID: 19256212) and Marco Investment and Axis-Re are proposing to build 267 houses in the £37.6 million INQ development at Piccadilly Basin (Project ID: 22381197).
Office pipeline
Seven major office projects started construction in Manchester last year according to Deloitte and Glenigan's industry analysis shows plenty more office developments about to come on stream.
Tenders have been returned for the £31 million Ev0 office development at Didsbury Technology Park and work could start later this year (Project ID: 21156481). M&G has yet to start procurement on the £31 million 50 Fountain Street office block, but a start is anticipated later this year (Project ID: 21443879).
Hotels
Hotel development has been the 'bedrock' for the rebound in development in Manchester since the Coronavirus pandemic according to Deloitte with 1,504 rooms delivered last year.
More hotels are being planned including Jadebrick's £12.6 million aparthotel in the Northern Quarter (Project ID: 22354015) and a new Hilton Motto Hotel at Great Ancoats Street (Project ID: 22449156)
Regional hub
Manchester drives work across the North West region, where contracts were awarded on £1.5 billion-worth of schemes at an underlying level (valued below £100 million) in the three months to January 2023, according to Glenigan's construction industry information.
The amount of new work in the pipeline for the North West is even larger. The underlying value of projects given detailed planning permission in the three months to January 2023 was £1.7 billion.
Top Contractors
Wates won the most work across the North West in the 12 months to January 2023. Work in the group's regional £329 million order book, include a £32 million residential scheme at Ancoats that is due to start this summer (Project ID: 22046230)
Other contractor's in Glenigan's North West Top 10 who are busy in Manchester include third placed Renaker Build, where a £262 million order book includes the £120.9 million Union T1 residential scheme (Project ID: 20191916).
Fourth-placed Royal BAM has £180 million-worth of work across the North West, mainly in Manchester. This ranges from a £54 million remediation scheme at New City River Park due to start in June (Project ID: 22271546) to a £64 million office scheme at First Street (Project ID: 18357543).
The future?
There are plenty of projects in the pipeline in Manchester and Deloitte advises that proposals for sustainable transport and with developments with strong green credentials will be important going forward.
Glenigan customers can see details of all new construction work in Manchester if part of your subscription.
Not a Glenigan customer, but would like to see detailed sales leads for new construction work in Manchester? Request a free demo of Glenigan today so we can show the size of the opportunity for your business.