Despite the pessimistic outlook for house prices, there remains a significant volume of construction activity in the pipeline on housebuilding sites and the sector continues to offer opportunities for new contracts.
Despite the financial market chaos caused by October's Mini-Budget, Glenigan data shows that the immediate outlook for housing construction activity has been largely undisturbed. Detailed planning approvals for underlying housing projects (worth under £100 million) in the three months to November fell by only 1% compared to the previous three months. Meanwhile for all housing schemes, total detailed planning approvals actually rose 17% during the same time frame.
Planning approvals in London
London has been the busiest area for detailed housing planning approvals, which bodes well for construction activity in the capital in 2023. The December Glenigan Construction Review reported that planning approvals for housing projects in London rose 64% in the three months to November on the same period a year earlier, accounting for almost a quarter of the national total and worth over £3 billion.
The major volume house builders are also set to maintain significant - albeit reduced - levels of completions this year, despite the cooling in the new homes market. One of the largest quoted groups, Barratt Developments, said earlier this month that if its' home reservation rates increased over the spring in line with normal trading patterns it would be on track to complete some 17,475 homes in its current financial year running up to next June. Even without a seasonal improvement, it expects to deliver 16,000-16,500 completions.
Developments of varying sizes
Glenigan data highlights numerous new housing developments around the country of varying sizes where detailed plans are being submitted and where construction is set to start over coming months.
In the South East, work is due to start in February at North Heybridge Garden Suburb near Maldon in Essex, where Countryside Properties has had detailed planning permission granted for a £78.9 million private housing scheme. This will eventually involve around 1138 residential and care home units alongside schooling and commercial space. Plans for 262 new homes have recently been given the go-ahead by the council and work is due to run for 31 months (Project ID 15183889).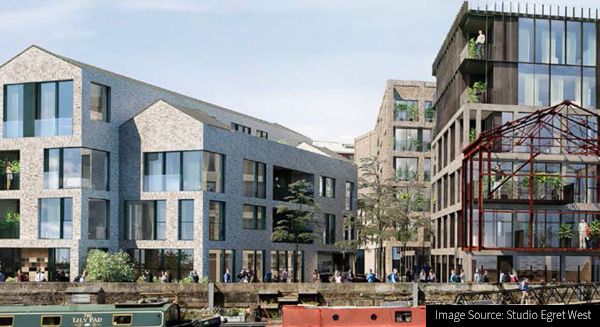 As well as landmark schemes in London, smaller projects in the capital also offer opportunities for new work. At Swan Wharf in Hackney, Anderson Design and Build has secured approval on appeal for a £3.7 million scheme of 42 flats and commercial units where work is pencilled in to start in summer this year and run for six months (Project ID 16119276).
Meanwhile in the South West, Edenstone Homes has submitted a reserved matters application for a £9.61 million housing scheme involving 99 houses along with 20 flats and 20 bungalows where work is set to start in September and run for 33 months (Project ID 15369992).
Sheltered housing also continues to offer scope for new work contracts. In Ely, outline plans have been granted and tenders recently returned, for a £75 million scheme involving 680 retirement units for Cross Keys Homes. Construction work is due to start at the end of this year and run for 31 months (Project ID 16419649).
Build to rent developments will also provide opportunities for contracts in 2023. In Derby, Godwin Developments has had detailed plans granted for a £30 million building - The Landmark, in the town's Phoenix Street - which will provide 202 one and two-bed flats. Work is due to start in June and run for 20 months (Project ID 18129747).
Glenigan customers can see details of all new housebuilding construction projects if part of your subscription.
Not a Glenigan customer, but would like to see detailed sales leads for housebuilding construction projects? Request a free demo of Glenigan today so we can show the size of the opportunity for your business.