Six Health Infrastructure Plan projects have been given the go-ahead and will share the £2.7 billion budget announced by the Government last year, and although it's too early to say what modern methods of construction (MMC) elements will be involved, each is likely to feature considerable MMC to speed up delivery and see a better return on investment.
Rory Pollock, Laing O'Rourke's health sector lead was quoted in a recent Building Magazine article Rethinking Design: How the pandemic is transforming healthcare saying: "If there has ever been a need to accelerate design for manufacture and assembly (DfMA) and modern methods of construction, it is now," says Pollock. "The fact that we have diminishing assets from a healthcare point of view that need rapidly upgrading, but also the fact that these deliveries are made at pace, at speed, which is absolutely the directive being given, [mean] we can't really deliver these traditionally any more."
It's not just the budget and delivery schedule that will benefit from extensive MMC use in hospital development though, there's also the profound positive effect offsite methods will have on patients too. Less construction traffic, less on-site labour, and less noise, vibration and dust will all help mitigate disruption to patient care, which will be of paramount importance once these projects get underway.
Here we look at the six Health Infrastructure Plan projects given the go ahead to identify the size of the opportunity and to gauge where each project is in the construction life cycle following the disruptions of last year.
Princess Alexandra Hospital delayed to enable maximum use of MMC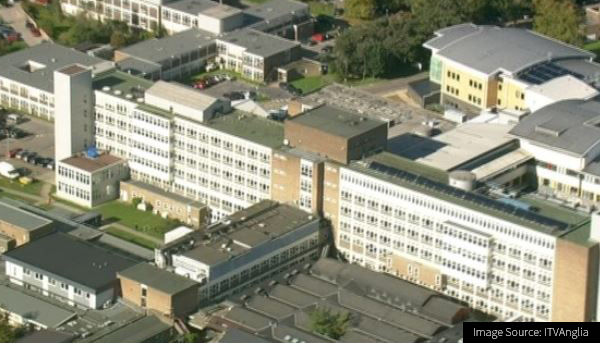 Designs for the £100 million Princess Alexandra Hospital in Harlow, Essex (Project ID: 19342019) are currently being revised to ensure maximum use of modern methods of construction. New designs are due to be completed at the end of May and the project is expected to start in April 2022. The Princess Alexandra Hospital NHS Trust has appointed Bryden Wood to advise on modern methods of construction, and Gilling Dod Architects are the main architect on the project.
Watford General Hospital Health Campus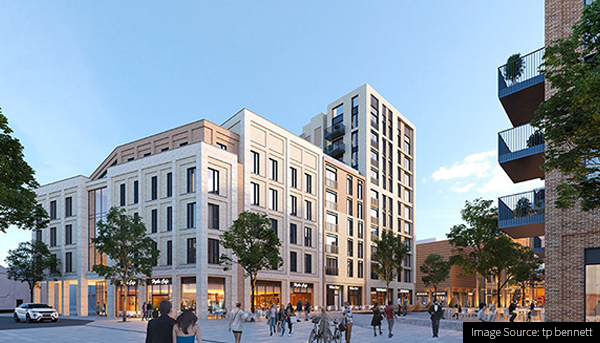 The £260 million Watford General Hospital Health Campus (Project ID: 04432772), will deliver a mixed-use health campus on land at and adjacent to the Watford General Hospital. Architects BDP is currently undertaking a public consultation ahead of outline planning being submitted later this year.
Whipps Cross Hospital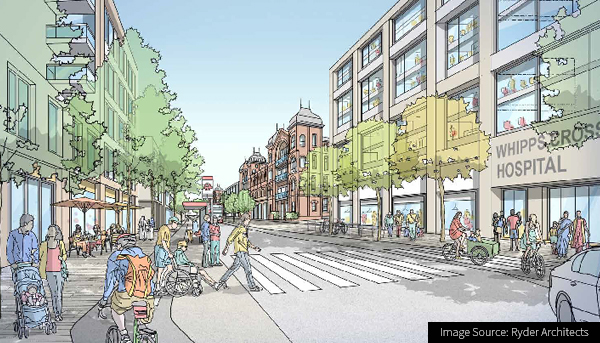 Demolition and preparatory works are due to start imminently on the £900 million development of Whipps Cross Hospital (Project ID: 20102249) in the London Borough of Waltham Forest. Subject to approval, Barts Health NHS Trust has proposed that the new hospital be built on a disused former nurses' home, allowing the existing hospital to remain fully operational during construction of the new one. Construction is due to start in December and is expected to take five years to complete.
Epsom and St Helier University Hospitals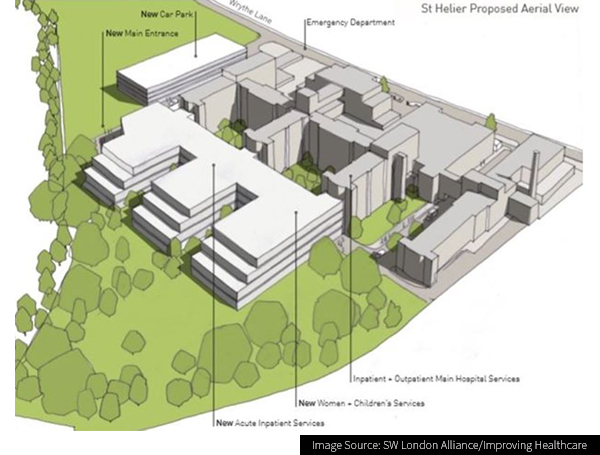 Progressing the £219 million Epsom and St Helier University Hospitals in Sutton (Project ID: 10031719) is currently in doubt as the NHS Trust is concerned that the additional costs brought on by the pandemic, plus its Net Zero obligations, could make the scheme too costly to build.
Should these concerns be overcome then the project is expected to start on-site in September 2022 and will take five years to complete. The development will involve demolition works and the construction of a new hospital building of 24,600 sqm to provide replacement hospital wards, out-patient accommodation and a local care centre.
Leicester Royal Infirmary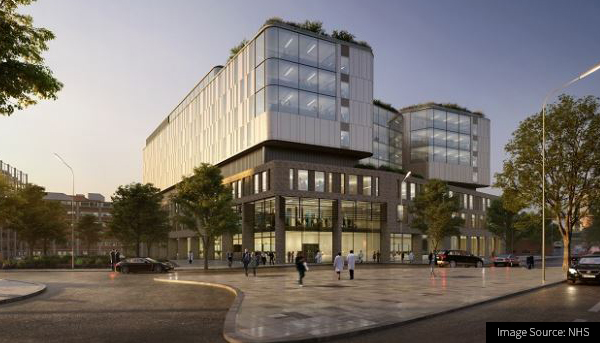 The new £90 million Maternity Hospital at the Leicester Royal Infirmary (Project ID: 18314650) is designed to expand the current service and make it more accessible to women living across Leicester, Leicestershire and Rutland, while also enabling them to be closer to specialist medical support should they need it. The project is due to start in October this year, and is expected to take five years to complete.
Leeds General Infirmary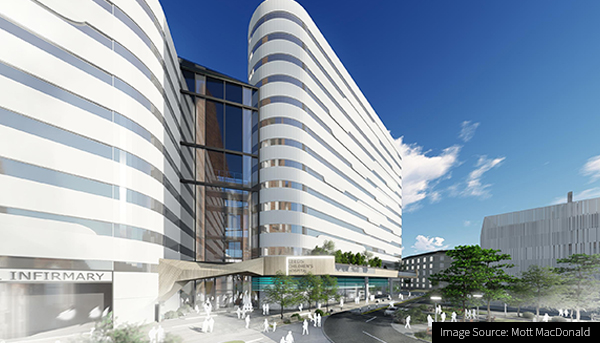 Leeds Teaching Hospitals NHS Trust has revealed the shortlist for the architects and design teams for the £600 million Leeds General Infirmary scheme (Project ID: 18366238). Final appointments are expected in late spring. The project, which will involve demolition of a former nurses' home and construction of a new adult hospital wing and a prominent home for the Leeds Children's Hospital, is due to start in September 2022.
Glenigan customers can view all new and ongoing hospital and health opportunities if part of their subscription.
Not a Glenigan customer but would like to take advantage of this growing sector? Please request a free demo where we can show you more details on projects of interest to your business.
PR contact:
Rick Stephens (Content Marketing Lead)
T: 01202 786 859 │ E: rick.stephens@glenigan.com