Boom time for North West Construction
In the last financial year, the North West overtook Greater London as the second biggest source of new homes starting on site.
Amidst concern over the state of the capital's rapidly weakening housing market, those figures from the National House-Building Council (NHBC) barely merited attention but illustrate a major demographic shift.
London was once the driving force of UK construction - not any longer.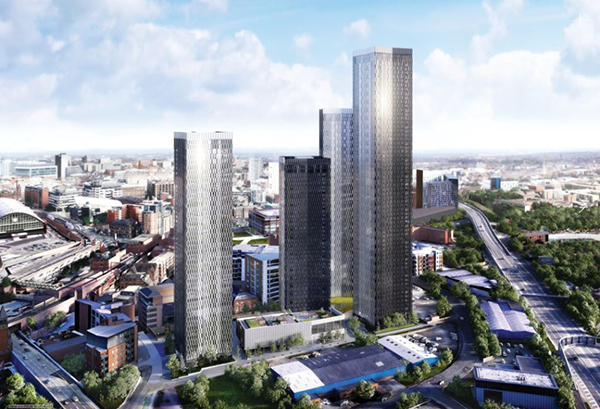 Artist's impression of Manchester's forthcoming Owen Street skyscrapers. Image Source: SimpsonHaugh
Deloitte recorded a 37% drop in new major high-rise building projects starting in London last year, but a 60% rise in residential units under construction in Manchester.
The construction industry in the North West is booming.
Glenigan's construction market data bears that out: £28.6 billion-worth of building and civil engineering construction projects started on site in the two years to Q1 2018 with a 66% leap in the last year alone.
This growth in construction in the North West is being driven by a shift in population.
A recent report by the Centre for Cities think tank rated Manchester as the number one city in England and Wales for 'city centre growth' while London languished in 20th position.
Chart 1: Revival in City Centre Living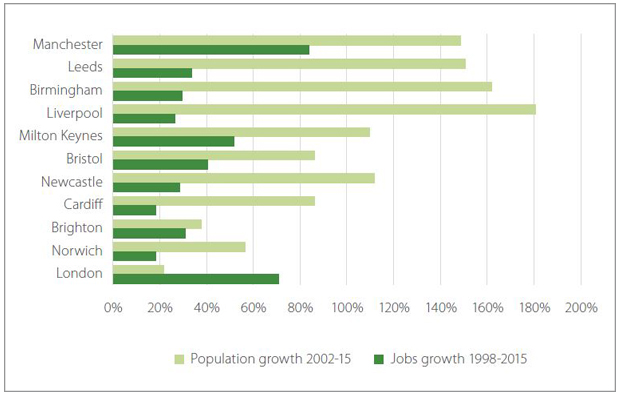 Source: Centres for Cities
Is this regional shift to the North West confined to one city and one sector? And how long will this boom last?
Glenigan's construction market analysis can provide some answers.
Manchester housing boom
Housing in Manchester is clearly a key driver in the North West's construction boom.
Deloitte's data shows that 41 out of 63 major construction projects on site in Manchester last year were for housing and 11,135 residential units were under construction.
To put that figure in context, in the 2018 financial year the National House-Building Council (NHBC) recorded applications to start 18,272 new homes across the whole of the North West.
Chart 2: Work in the Pipeline - Greater Manchester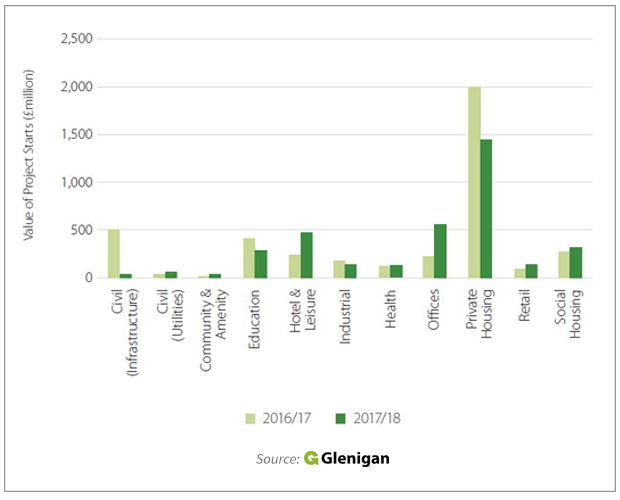 Source: Glenigan
That figure is for private and social housing and Glenigan's construction analysis shows differing trends in each of these sectors.
Across the North West, Glenigan identified 882 private residential schemes securing planning permission between 2016/17 and 2017/18. In the most recent year, there was a drop of 7%.
There is far less social housing work in the pipeline but the trend is more positive.
Glenigan recorded 158 social house-building projects as approved in the past two years.
In the most recent period for the 12 months to Q1 2018, there was a year-on-year rise of 29%.
Although build-to-rent remains strong, this suggests that a peak may have been reached in private housing in central Manchester.
In contrast, the value of residential work in the planning pipeline on Merseyside is rising both in terms of the number of units and value of projects.
Chart 3: Work in the Pipeline - Merseyside
Source: Glenigan
So if Manchester's residential construction boom levels off, will developers look elsewhere for opportunities?
Where next?
Over the last two years, £10.4 million-worth of construction work has started on site in Manchester. The bulk of this work is centred on just two of the 13 boroughs in Greater Manchester.
Chart 4: Value of projects starting in Greater Manchester during 2017/18 by borough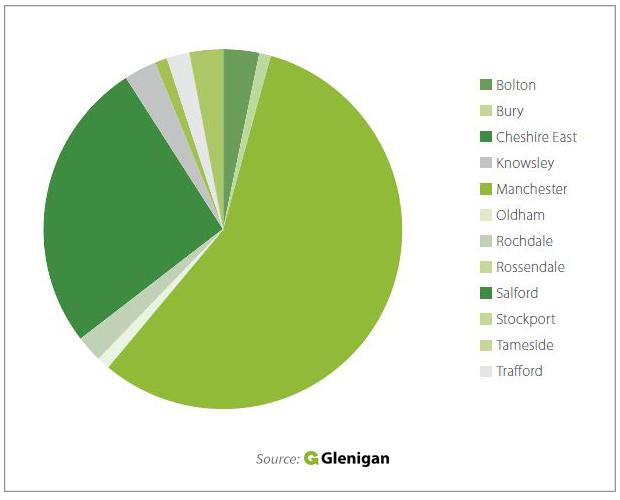 Source: Glenigan
Over the last two years, 60% of the construction projects to start on site by value are in central Manchester and 25% in Salford.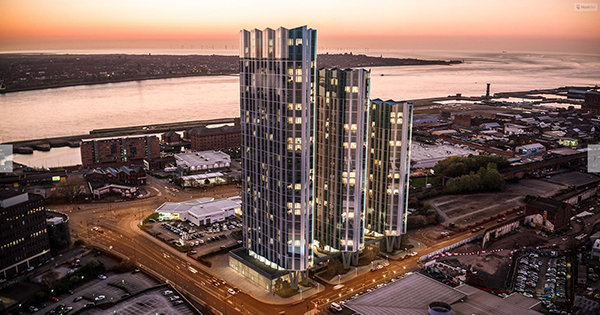 Infinity Liverpool. Image Source: Falconer Chester Hall
This trend is even more extreme on Merseyside. Here, 95% by value of the projects starting on site in the past two year are in Liverpool with the balance split between the other six boroughs of Merseyside.
Chart 5: Value of projects starting in Merseyside during 2017/18 by borough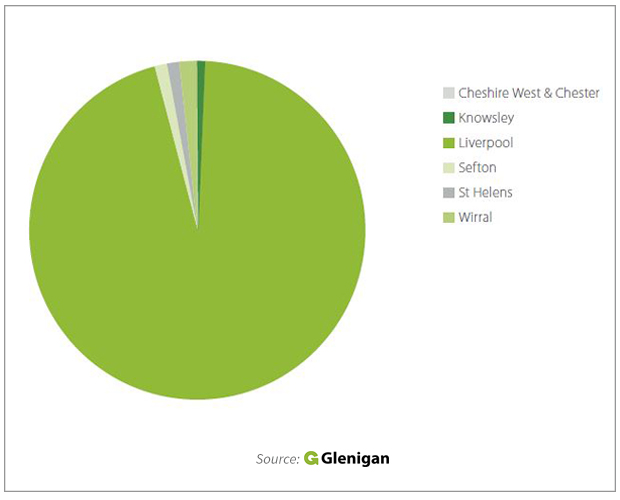 Source: Glenigan
So 60% of the construction work starting on site in the whole of the North West can be found in just three places: Liverpool, Manchester and Salford.
Glenigan's construction data for work in the pipeline shows little evidence of this boom rippling out further.
Chart 6: Work in the Pipeline - North West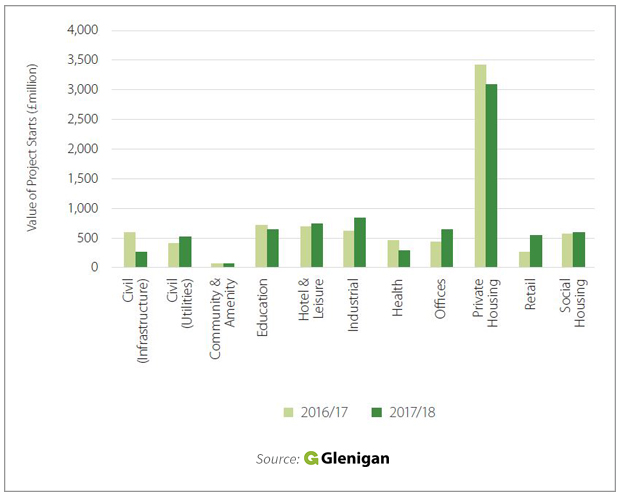 Source: Glenigan
More than housing?
Nearly a third of the building work given planning permission in the last two years is in the industrial, office, retail and hotel & leisure sectors according to Glenigan's construction analysis.
Chart 7: Project Starts in the North West during 2017/18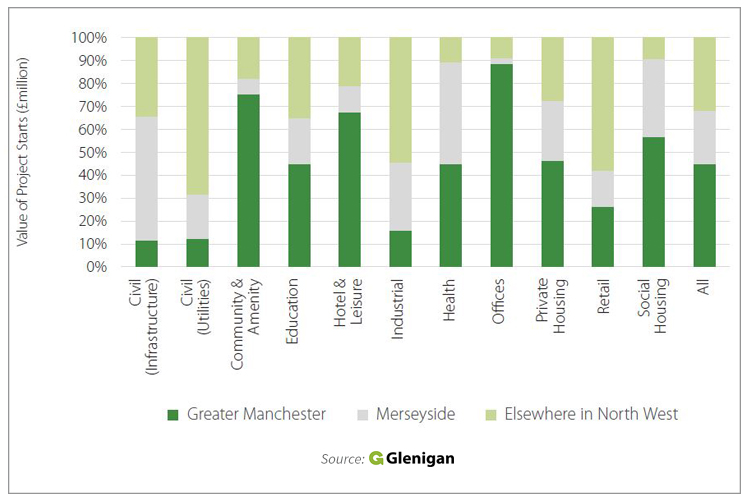 Source: Glenigan
All four sectors registered an increase in the value of projects approved in 2017/18 compared to the previous year.
The largest amount of work is expected to come from the hotel & leisure sector, where £1.3 billion-worth of construction work was approved.
Deloitte's data found that 599 hotel rooms were completed in Manchester with another seven hotel schemes under construction, and speculative office projects are likely to increase.
In its last Manchester Crane Survey, Deloitte said that only 3.6% of commercial space currently under construction was pre-let to a tenant and said that this suggested 'the return of the speculative office scheme.'
Glenigan's figures bear this out. Between 2016/17 and 2017/18, the value of hotel & leisure schemes approved leapt by 97%, while there was a 150% surge in office work given the clear light by local planners.
The clients and the contractors
More people moving to the North West means that more places to live, work and relax are needed. Glenigan's construction research clearly shows that this is happening, but who is commissioning and building this work?
The English Cities Fund, set up by Homes England, Legal & General and Muse, with £200 million investment, is behind schemes in Liverpool and Salford.
Established developers from the North West such as Peel Holdings remain very active, and new developers are also investing.
Founded in 2015, Yu Property Group is behind a number of residential schemes on Merseyside including part of the King's Dock scheme. And The High Street Group, though based in Newcastle-upon-Tyne, is also investing in the North West.
National contractors are best placed to deliver the biggest projects and Laing O'Rourke has the biggest order book in the North West courtesy of a £1 billion transformation of Manchester Airport.
At a lower level a number of new contractors have sprung up over the last decade to cash in on the boom, such as Domis, which was only set up last year and is delivering the £85 million Crescent scheme in Salford. Vermont Capital is building the £100 million Manchester Waters project and has delivered construction projects valued at
more than £320 million since 2004.
The boom has also attracted foreign contractors with Beijing Capital from China in charge of the £200 million St Michaels' project in Bootle.
Table 1: North West - Top 10 contractors year to Q2 2018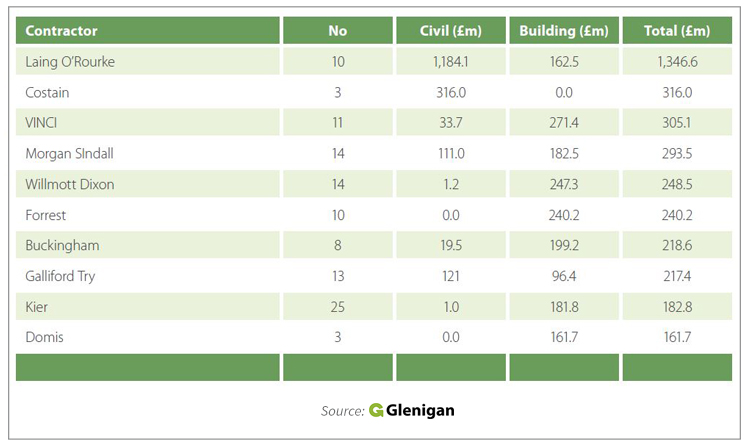 Source: Glenigan
The future?
Glenigan expects the underlying value of construction starts in the North West region to rise by 11% this year.
The only other parts of Britain expected to beat this rise are the East and West Midlands, which are benefitting from HS2 and a surge in logistics work.
The boom in the region will continue this year, but the growth may be stronger in Liverpool rather than Manchester as Merseyside's development potential kicks off.
Download this report as a PDF.
For a UK wide construction forecast, download the Glenigan 2018/19 Construction Industry Forecast.