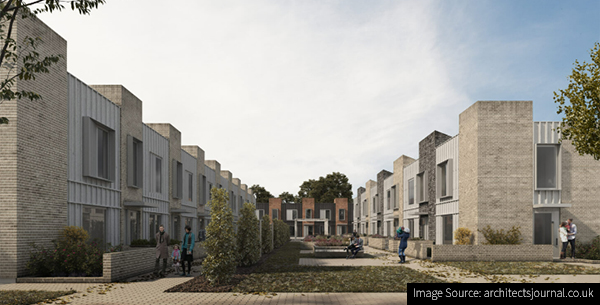 The prospects for greater use of Modern Methods of Construction (MMC) to speed up building and reduce costs by using products built off-site are stronger than recent events suggest.
A modular housing joint venture set up by Urban Splash collapsed owing its supply chain £12 million, while housebuilder Countryside is closing one of its three MMC factories after a review forecast excess capacity expected to produce a £10 million loss.
However, a wider level of adoption for MMC is growing. Another housebuilder, Hill Group, has purchased Fusion Steel Framing, which operates an 80,000 sq ft plant manufacturing structural light steel framing technology. Hill is also setting up its own bespoke modular housing factory after buying a 50% stake in an off-site producer, Volumetric Modular.
After acquiring Fusion Steel Framing, Hill Group chief executive and founder Andy Hill said: "This further strategic investment gives The Hill Group a competitive advantage in harnessing the potential of modern methods of construction, not only in developing creative new home-building options but also in terms of cost control, surety of supply and quality of finished product."
Social prospects
Hill is working on a number of major residential developments, particularly in the social housing sector, where the prospects of MMC are brighter. New frameworks, such as Notting Hill Genesis' £250 million Contractor Framework for Development Programme are expected to increase utilisation of off-site methods (Project ID: 21419547).
The Department for Levelling Up, Housing and Communities - formerly the Ministry for Housing, Communities and Local Government – agreed a £8.6 billion funding package to build nearly 120,000 affordable homes in England as part of the £11.5 billion Affordable Homes Programme from 2021-2026. Increased use of MMC was also part of this agreement.
Better MMC
The Building Better alliance, which represents 29 housing associations and councils, has worked with Procurement for Housing to set up a framework expected to see £600 million invested over four years on the construction of panellised systems to build 5,000 new affordable homes (Project ID: 22137300).
The six manufacturers to be appointed - Future Built, LoCal Homes, Project Etopia, Roe Timberframe, Sigmat and Starship Homes - all produce two dimensional panelised solutions, known as Category 2 systems.
Glenigan's industry research shows that Project Etopia is also working on another £200 million framework to produce modular homes for housing association Places for People (Project ID: 20209803).
Public boost
The wider public sector is also embracing MMC. Earlier this year ISG acquired a majority stake in ESS Group, which employs 280 staff and three manufacturing facilities in the UK and Ireland, to support its work on public sector projects.
ESS works on schools and prison schemes and is also on the Department of Health's Modular Buildings Framework (Project ID: 20130200). With spending of £1.6 billion expected up to 2025 on NHS schemes, this will increase the roll out of MMC.
With materials prices and labour rates also rising rapidly, the long term prospects for MMC look better than recent headlines suggest.
Glenigan customers can see details of all new construction work involving MMC if part of your subscription.
Not a Glenigan customer, but would like to see detailed sales leads for construction work involving MMC? Request a free demo of Glenigan today so we can show the size of the opportunity for your business.