Project-Starts Decline Bottoms Out
Underlying project-starts remain depressed, 17% down on the preceding three months, 13% lower than in 2021
Residential (-21%), non-residential, (-13%) and civils (-13%) all fall against the preceding three months
Northern Ireland (+16%) and Scotland (+19%) post strong results during November Index period
The key takeaway from November's Index is the gradual levelling out of project-start decline, which has characterised the Index since May 2022.
However, whilst performance has stabilised, overall underlying project-starts (under £100 million) remain at a low ebb, 17% lower than the previous three months to October, and 13% down on the same period last year.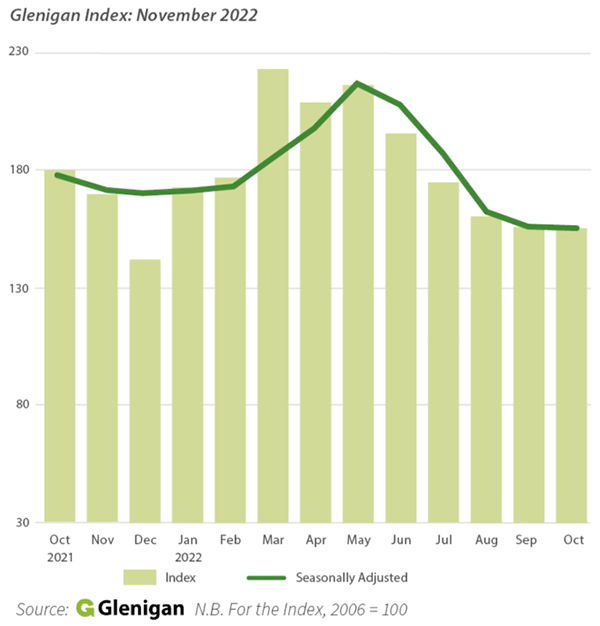 According to Glenigan's Senior Economist, Rhys Gadsby, "It's encouraging to see a fall in project starts has slowed during the period covered by this Index, however, optimism should be cautious. Our recent Forecast, released last week, indicated some gale-force headwinds going into 2023, so we shouldn't expect this performance plateau to be the harbinger of full recovery, at least in the short term.
"Geopolitical disruption, an uncertain domestic economy and a government finding its feet have dented market confidence. Despite the much-needed market assurance expected from the Chancellor's Statement on 17th November 2022, it's unlikely it will provide an immediate boost in activity."
Sector Analysis – Residential
Decline was consistent across the board, with project-starts falling 21% against the preceding three months to stand 10% lower than 2021 levels.
Despite social housing faring slightly better compared to other verticals covered in the Index (-7% against the previous three months), the value still dipped 26% against last year.
In contrast, private housing-starts tumbled 24% on the previous three months whilst only falling 6% compared to 2021.
Sector Analysis – Non-Residential
The downward trend continues in the non-residential verticals. However, office project-starts were an exception, remaining largely unchanged on a year ago and were up an impressive 11% on the three months preceding October. Whilst industrial starts were up 4% on the previous three months, they slipped 15% behind 2021 levels.
Hotel and leisure starts fell 19% against the preceding three months, experiencing a massive 38% decline against last year. Education (-24%) and health (-41%) work starting on site also declined against the previous three months, respectively standing 28% and 31% lower than a year ago.
Civils project starts slipped back 13% against the previous three months but remained stable compared to 2021 figures.
Regional Analysis
Similar to other Glenigan Indexes published in 2022, Northern Ireland project-starts saw another performance uptick, rising 16% on the previous three months and up by a massive 35% on a year ago.
Scotland also experienced a strong period, with on-site starts up 19% on the last three months and 10% higher than 2021.
Project-start performance was less consistent in other regions. Whilst Wales witnessed a 25% boost against the preceding year, figures were 5% down on the previous three months. The North West remained largely unchanged on the last three months and a modest 2% down on 2021.
All other regions registered decline during the November Index period, and compared to last year. Project-starts in London and Yorkshire & The Humber both experienced steep falls (-35%) against 2021 levels.
Glenigan Index
Residential
Non-Residential
Civil Engineering
Month
Index
% change y-o-y
Index
% change y-o-y
Index
% change y-o-y
Index
% change y-o-y
Oct-21
179.6
12%
253
10%
141
28%
122
-26%
Nov-21
169.3
2%
233
-6%
131
22%
138
-19%
Dec-21
142.3
2%
209
0%
103
11%
110
-17%
Jan-22
169.4
6%
241
-3%
129
32%
122
-16%
Feb-22
176.3
5%
251
-3%
139
32%
107
-34%
Mar-22
223.3
6%
322
-3%
173
33%
140
-25%
Apr-22
209.0
8%
305
3%
149
21%
174
-6%
May-22
216.5
12%
328
15%
141
10%
202
8%
Jun-22
195.3
9%
287
17%
129
1%
197
3%
Jul-22
174.9
-2%
253
4%
124
-9%
155
-8%
Aug-22
160.1
-13%
214
-18%
127
-11%
141
6%
Sep-22
156.3
-15%
214
-16%
121
-16%
131
-1%
Oct-22
155.7
-13%
226
-10%
113
-20%
122
0%
Press Contact:
Rhys Gadsby
Senior Economist
T: 01202 786714
E: rhys.gadsby@glenigan.com