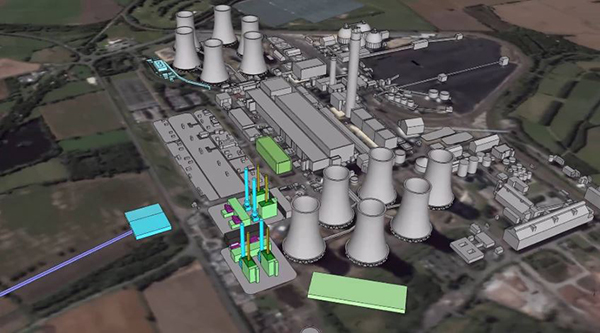 The drive for renewable energy offers the prospect of some significant projects for civils contractors over the long term as the offshore wind and nuclear power programmes gather pace. But the need to keep the lights burning in the short term and in all weathers is creating significant opportunities for gas-fired power station construction.
Construction work is set to start over the next two years on a series of major gas-fired facilities - which produce 39% of the UK's electricity - which will generate contracts potentially worth hundreds of millions.
Indeed, the workload created by gas-fired power stations is one factor behind a 12% increase in the value of civil engineering starts this year - and a 4% increase next year – which is predicted in the latest Glenigan Construction Forecast for 2019-2020.
The Forecast notes the dominance of the energy sector in the current makeup of the civils sector's workload with major generation projects including gas-fired stations alongside Hinkley Point 'C' and offshore wind farms.
Nationally significant projects
The scale of one major new project, VPI Immingham's £250 million gas-fired electricity station on Humberside which has a capacity of 299 MW, is large enough for it to have been deemed a 'Nationally Significant Infrastructure Project'.
Detailed plans have been granted and the project is at the pre-tender stage with work set to start in autumn 2021 and last for 46 months (Glenigan Project ID: 18179281).
Meanwhile at nearby Retford, EDF Energy has submitted detailed plans for a £150 million gas-fired peaking plant at West Burton C Power Station. It is being designed to meet National Grid demands for short, quick blasts of power during periods of high demand and has also been deemed 'nationally significant'. Work on the scheme is set to start in autumn 2022 and continue for 24 months (Glenigan Project ID: 17241225).
Elsewhere in the east of England at Spalding in Lincolnshire, detailed plans have been granted and a contract awarded for a £400 million expansion of Intergen UK's gas-fired power station to generate 900 MW of energy; enough to fuel around two million homes. Siemens has been appointed the turnkey contractor on the scheme where work is set to start next summer and last for 36 months (Glenigan Project ID: 09198792).
Peaking power plant
Further south at Rookery South Pit near Bedford, detailed plans have been granted for Millbrook Power's £90 million gas-fired peaking power plant. Construction on the scheme is expected to start in summer 2020 with commissioning scheduled for 2022 (Glenigan Project ID: 15109930).
Meanwhile, in Selby in north Yorkshire, an ambitious project is taking shape to convert the huge coal fired Drax Power Station to become a gas-powered station in a £300 million scheme which also involves a battery storage facility. Detailed plans have been submitted and tenders are currently being invited. Meanwhile, work could start in late 2021 and continue for 36 months (Glenigan Project ID: 17343753).