While the announcement in last weeks' Budget that 12 new investments zones in England are to be set up, the new freeports locations – announced by the government two years ago - are starting to attract some significant new projects and construction contracts today.
Freeports offer various tax breaks which encourage firms to invest and build. Manufacturing businesses locating in freeports can import goods and raw materials free from tariffs and re-export them without paying UK duties. Firms on the freeport sites can also benefit from lower property taxes and rates – including new buildings they commission – and lower national insurance payments.
There are growing opportunities for new construction contracts at all eight locations which have been designated as freeports in England: Teesside, Thames freeport in Essex and sites near Liverpool, Plymouth, and Hull.
Meanwhile, shared freeports are being created at Felixstowe/Harwich and Southampton/Portsmouth and one has been created at East Midlands Airport in Leicestershire.
There is also potential for new work contracts in two areas of Scotland, which have been selected as freeport sites: Cromarty Firth near Inverness, and the Firth of Forth, near Edinburgh. A freeport site in Wales which is due to be announced soon, will also offer work opportunities.
Growing momentum
Glenigan data highlights various new projects and developments in the pipeline at freeport sites around the country which point to growing momentum behind the concept.
The business case for a £50 million development of Plymouth & South Devon Freeport (pictured) has recently been approved by the local council. Plans include a new Sherford Business Park next to the A38 aimed at attracting marine technology sector companies. Meanwhile, the freeport includes sites at Devonport's South Yard including an energy zone. Work on the port infrastructure is set to start this autumn and run for 18 months (Project ID: 20399441).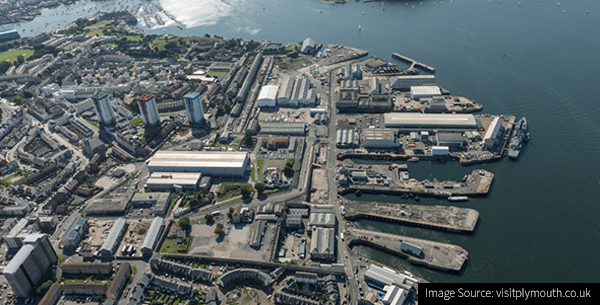 At the Port of Tilbury in Essex - part of the new Thames Freeport - detailed plans have been granted for a £21.9 million cement manufacturing plant for Aggregate Industries. Work on the scheme, which is at the pre-tender stage, and involves over 17,000 sq m of industrial space, is due to start later this spring and run for 11 months (Project ID: 21479325).
Huge developments
In the long term some potentially huge developments are set to get underway at freeports. At the Humber Freeport, which is expected to be given the go-ahead this spring, detailed plans have been granted for the £1.74 billion ABLE logistics park. This will involve a redevelopment to create a 235-hectare business park with over 21,000 sq m of light industrial space and nearly 230,000 sq m of storage/distribution units along with offices and banks.
Work is pencilled in to start later this year and stretch over 10 years (Project ID: 09188544).
There is no shortage of ambition at some of the freeport sites. Freeport East has plans to create a green hydrogen hub across its sites in Felixstowe and Harwich which it believes could meet a demand for 500MW of energy by 2030 - equal to 10% of the UK's target for green hydrogen production. The freeport's backers see hydrogen as part of a wider innovation cluster centred on the site which would build on the region's existing strengths in areas such as renewables, robotics, automation, artificial intelligence, and data science.
Glenigan customers can see details of all new freeport construction work if part of your subscription.
Not a Glenigan customer, but would like to see detailed sales leads for new freeport construction work? Request a free demo of Glenigan today so we can show the size of the opportunity for your business.