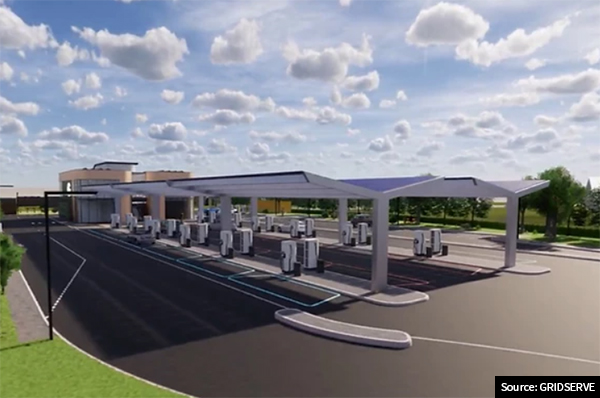 The next-step to widespread electric vehicle adoption will be taken near Braintree, Essex this November when the first all-electric forecourt service station opens to vehicles.
The new electric forecourt (Project ID: 19237488) is being built by Gridserve and can charge 24 electric vehicles at once with superchargers that can deliver up to 350kW of charging power, enabling people to charge vehicles within 20-30 minutes initially, and much faster in the future as battery technologies mature.
While vehicles charge, drivers will be able to relax or shop in a state of the art two-storey building, which will house a range of partners including WHSmith, Costa Coffee, Post Office, Booths and Gourmade.
As part of its £1bn programme, Gridserve is developing more than 100 electric forecourt sites on busy routes and near powerful grid connections and aims to have a UK-wide network operational within five years. The company is currently working on delivering further Electric Forecourts in East Sussex (Project ID: 19093491), Norfolk (Project ID: 20264318), Hertfordshire (Project ID: 19124165) as well as supporting infrastructure at many other sites. 
The market for 100 electric forecourt sites may seem a little optimistic when we look at the number of electric vehicles on our roads today, however the electric vehicle revolution has started and is on an upward trend.
There were more than 142,200 pure-electric cars on UK roads at the end of August 2020 - and over 339,000 plug-in models including plug-in hybrids (PHEVs). The most recent set of figures from the Society of Motor Manufacturers and Traders show that pure-electric models accounted for 6.4% of total new car registrations, and adding in PHEVs takes that figure up to 10%. August's figures saw a 78% increase in pure-electric registrations compared to the previous year, and PHEVs grew 222%. That's compared to hybrids (+38%), petrol (-15%), and diesel (-40%).
And business is helping to drive the upward trend, with Tarmac stating it is "committed to upgrading its 2,000-strong fleet of corporate cars and vans to EVs by 2030". And just last week, Speedy, the tools and equipment hire company announced they are trialling converted electric taxis from LEVC as tool delivery vans, building on  established green credentials following its adoption of the BMW i3 for deliveries in 2016.
And following Tesla's much anticipated 'Battery Day' announcement to shareholders last Tuesday - where CEO Elon Musk announced that advances in Tesla battery technology will yield a 54 percent increase in range, a 56 percent decrease in dollar per kilowatt-hour pack price, and a decrease in capital investment required for manufacturing, all within the next three years - a hundred electric forecourts in the next five years doesn't seem like quite enough.
Glenigan customers can find more details on the projects covered in this article via your subscription.
Not a Glenigan customer? Please request a free demo where we can show you more details on projects of interest to your business.
PR contact:
Rick Stephens (Content Marketing Lead)
T: 01202 786 859 │ E: rick.stephens@glenigan.com