New offshore wind capacity is one form of infrastructure investment which is likely to continue growing irrespective of any cuts to public capital spending budgets which the Chancellor may be planning to include in the Autumn Statement.
The need to boost energy security in the light of the Ukraine war and high gas prices, together with the Government's ambitions to cut carbon emissions, all reinforce the case for building more offshore wind farms around the UK coast.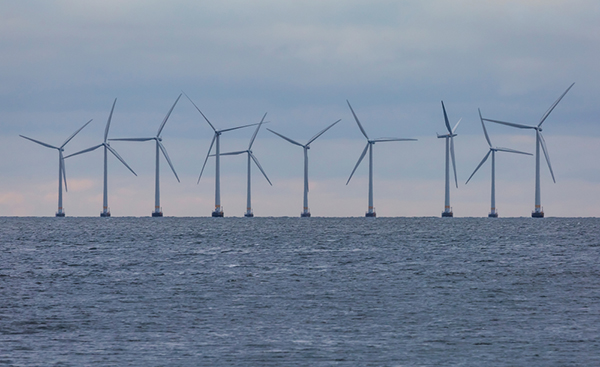 As developers press ahead with the largely privately financed schemes, which will help meet the Government's stated goal to quadruple offshore wind capacity to 40GW by 2030, the outlook for construction contracts linked to new wind farms looks positive.
Indeed, the prospect of work starting on some major wind farms projects in the North Sea – notably the Dogger Bank B and Hornsea Three schemes – should help sustain the growth of total civil engineering activity over the next two years. The November Glenigan Construction Industry Forecast 2023-24 is predicting a 1% increase in the value of underlying civil engineering project starts in 2023 followed by a further 3% growth in 2024.
Projects getting underway
The scale of the offshore wind projects getting underway highlights the opportunities for companies working in the sector. Work started this autumn on Orsted Energy's £3.5 billion Hornsea Three Offshore Wind Farm off the Norfolk coast which will involve some 231 turbines across a near-700 sq m area off the Norfolk coast. The project will produce 2,400 MW of energy - enough to power two million homes - and is set to continue for three years (Project ID: 16095470).
Meanwhile, detailed plans have been submitted to the government for the £2 billion Hornsea Project Four project involving new capacity of up to 1GW.
Elsewhere in the southern North Sea, SSE's £3 billion Dogger Bank B project will involve around 200 turbines to be sited some 131 km off Cottingham on Humberside, as well as 32 km of underground onshore cabling and a haul road. Eiffage Construction is the foundation contractor on the project, where work is due to start next summer and continue for 24 months (Project ID: 12391584).
Smaller wind farm projects
Other smaller offshore wind farm projects also offer scope for new construction contracts. Detailed plans have been granted and work is due to start in the new year on Scottish Power Renewables' £400 million East Anglia TWO Offshore wind farm, 31 km off the Suffolk coast. The scheme involves 75 wind turbines but also some significant onshore construction work including landfall connection works, underground cables, a new National Grid sub-station and the realignment of overhead lines (Project ID: 17283237).
Meanwhile, work is also due to start in the new year on the nearby £400 million Norfolk Boreas Offshore Wind Farm. Vattenfall is the client and the management contractor on the scheme which involves 90-200 turbines and where work is set to run for 35 months (Project ID: 18349480).
New offshore energy technologies are also generating opportunities for civils contractors. In Aberdeen, contractors are being appointed on a £8.62 million scheme which aims to produce hydrogen from a floating offshore wind platform. Environmental Resources Management is the civils contractor on the scheme where work is set to start next spring and run for 35 months (Project ID: 22379763).
Glenigan customers can see details of all new offshore wind construction projects if part of your subscription.
Not a Glenigan customer, but would like to see detailed sales leads for new offshore wind construction projects? Request a free demo of Glenigan today so we can show the size of the opportunity for your business.