New energy projects are creating significant opportunities for construction contracts.
The creation of a new Department for Energy Security and Net Zero has highlighted the emphasis which the government is putting on attracting more investment in power-generating capacity in the UK.
It follows last April's launch of a £375 million package of government support for new technologies to reinforce energy security which included £240 million to support hydrogen production and funds for nuclear technology and research into carbon capture. A Hydrogen Week series of events was staged earlier this month to highlight its potential as a source of clean energy.
As the new government department starts life, there are signs that these initiatives are bearing fruit and that the energy sector is investing in some significant new projects which are creating good opportunities for construction contracts.
Landmark hydrogen scheme
One landmark scheme involving hydrogen which is moving forward is Statera Energy's £1 billion Thurrock Flexible Generation Plant in north Kent which has been deemed a nationally significant infrastructure project (NSIP). A development consent order has been granted on the scheme, which has an electrical capacity of up to 600 MW along with battery storage, and where work is set to start next summer and run for 15 months (Project ID 05483324).
Meanwhile, an EPC (engineering, procurement, and construction) contractor is set to be appointed on the £250 million North Killingholme Power Station, at Immingham on the south bank of the Humber. The new 470 MW facility will provide enough power for one million homes and operate as a combined cycle gas turbine or integrated gas combined cycle plant. Work on the plant, which is also an NSIP, is set to start early this year and run for 22 months (Project ID 1430 4311).
Meanwhile at Eye Airfield Industrial site in Suffolk, contracts have been awarded for Drax Group's £200 million gas fired Progress Power Station (pictured). Mytilineos is the civil contractor on the scheme, which will generate up to 299 MW of electricity, enough for 400,000 homes. Work is set to start on the project in coming weeks and run for 30 months (Project ID 13154228).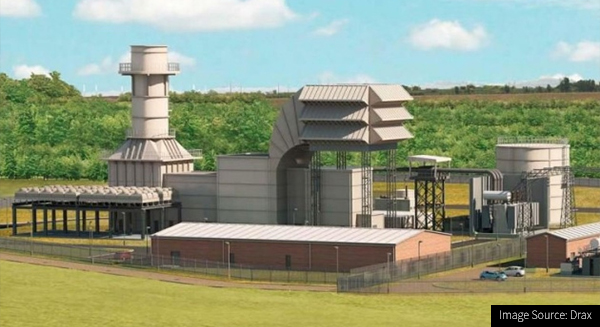 Drax Group is also involved in a major £500 million bio energy/carbon capture and storage project where new technology will be installed in existing power stations at Selby in North Yorkshire. Detailed plans have been submitted and work is set to start in summer 2024 and run for three years (Project ID: 21117901).
Sunnier pipeline
Meanwhile there are some major new solar power energy projects in the pipeline. At Heckington Fen Solar Park near Boston in Lincolnshire, plans are expected to be submitted soon for a new £100 million facility by Ecotricity (Next Generation) with an installed capacity of around 500 MW. Work on the scheme, which is also an NSIP, is set to start in summer 2025 and run for a year (Project ID: 21463986).
Energy facilities using new technologies are also generating smaller contract opportunities. At Arundel in West Sussex, detailed plans have been approved for a £1 million combined heat and power plant at Rudford Industrial Estate. It will use up to 15,000 tonnes of feedstock to generate power and export up to 1.25 MW of electricity to the system. Work on the project for client South Coast Skips is set to start this summer and run for nine months (Project ID 22233829).
Local projects involving standby and backup electricity generating facilities are also on the increase. In Ipswich, detailed plans have been granted for Bramford Energy One's gas fired energy reserve facility, an £816,000 standby facility with a capacity of 49.9 MW with work pencilled in to start this summer and run for 24 months (Project ID 17432082).
Glenigan customers can see details of all new energy projects if part of your subscription.
Not a Glenigan customer, but would like to see detailed sales leads for energy projects? Request a free demo of Glenigan today so we can show the size of the opportunity for your business.