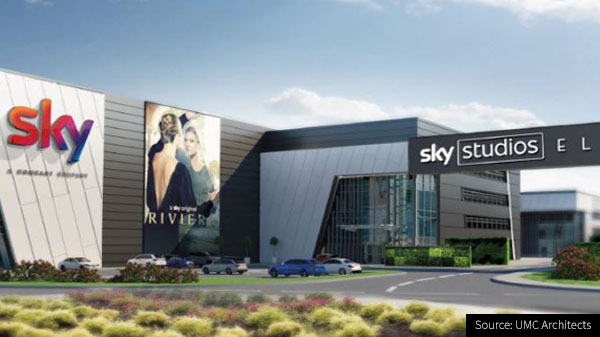 No doubt we've all noticed the lack of new films and TV shows available on the plethora of TV streaming channels over the past 6 months - due to COVID-19 worldwide lockdowns of production studios - but with production restarting, so too is the huge growth in the development of UK film and TV studios.
Film and TV production companies are drawn to the UK due to the significant advantages on offer.
Tax relief of up to 25%, plus the pool of highly skilled specialist labour, especially in London - which boasts one of the greatest concentrations of film industry technical expertise in the world - makes the UK one of the very few countries outside of the US where major feature films and high-end TV productions can be crewed locally.
And the major studios are taking advantage and creating significant opportunities for UK construction firms able to deliver work in this exciting sector.
Shepperton Studios
A new 33-acre development at Shepperton Studios (Project ID: 18311697) has had outline plans approved for a further 16 sound stages which will make it the second-largest studio in the world. The site will be expanded five-fold and will include sound stages, workshops, office accommodation, entrance structures and reception, security offices and backlots. The £500 million development will also host a dedicated production hub for Netflix which has signed a 10 year lease.
Netflix is also reported to be moving into a new London headquarters that will triple the amount of its West End office space, confirming its ongoing commitment to the UK as a permanent base for production and operations.
Pinewood Studios
Fourteen miles north of Shepperton, at Pinewood Studios, plans have been submitted to create a 'Screen Industries Global Growth Hub' called Screen Hub UK (Project ID: 20368819). The £450 million development will be based on a 77-acre site to the south and immediately adjacent to the existing studio which will be expanded to include a 350,000 sq ft film-inspired international visitor attraction, new film production facilities of up to 350,000 sq ft, an educational training and skills hub, and a creative industries business growth hub.
Ashford International Studios
And in Kent, detailed plans have been approved for the first stage of the £250 million Ashford International Studios (Project ID: 19086569) comprising 7,440 sqm of film and TV studios with 7,125 sqm post-production offices and a 3,830 sqm workshop and media village, plus a 4/5-star, 120 bedroom hotel. The site which is at pre-tender stage is anticipated to start on-site early next year and will take approximately 3 years to complete. Netflix and Amazon are both reported to be interested in using the space.
Sky at Elstree
And possibly the most high profile investment in new studios to hit the headlines recently is the £230 million, state-of-the-art TV and film studio for Sky at Elstree (Project ID: 19421275), home to the world-renowned Elstree Studios. The 32-acre Sky Studios Elstree development is expected to open in 2022 and will be able to facilitate the production of several films and TV shows simultaneously, with each of the 14 sound stages covering over 20,000 sq ft. Once completed, the site will include production offices, a set construction workshop, a screening cinema and state-of-the-art post-production and digital facilities.
Glenigan customers can view all new and ongoing film and TV opportunities as part of their subscription.
Not a Glenigan customer but would like to take advantage of this growing sector? Please request a free demo where we can show you more details on projects of interest to your business.
PR contact:
Rick Stephens (Content Marketing Lead)
T: 01202 786 859 │ E: rick.stephens@glenigan.com