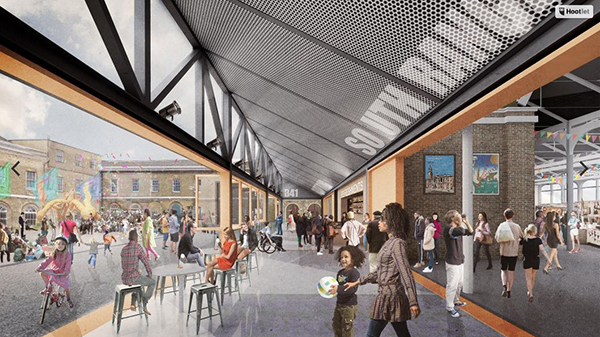 Image Source: Bennetts Associates
One thriving sector which is proving largely free of concerns over Brexit is Construction for cultural venues, particularly in London. Construction work on a series of major arts, music and other culture-related venues is either planned or underway in the capital which is helping to sustain workloads as the commercial sector has slowed.
Landmark projects where construction is starting or in the pipeline include the Royal College of Art's Battersea South Campus, the new £288 million proposed Centre for Music near the Barbican and the £1 billion planned redevelopment of the Olympia Exhibition Centre in west London.
Kier has recently started construction work on the RCA's Battersea South Campus designed by Herzog & de Meuron to create a new 15,500 sq m building for postgraduate students and entrepreneurs. Set to open in autumn 2021, the new building is part of a £108 million investment programme involving new studios, workshops and incubator units.
The new scheme will also bolster the south London area's growing reputation as a creative hub and centre for innovative businesses, highlighted by Apple's decision to make Battersea its hq in the UK.
Elsewhere in south London, construction work started last month on the £31 million Woolwich Creative District project, involving a redevelopment of the Royal Arsenal into a new cultural quarter for the capital by the Royal Borough of Greenwich. Work on the scheme is set to run for 15 months (Glenigan Project ID: 17097507).
Ambitious scheme
Plans for an ambitious development to transform the huge Olympia exhibition centre in Earls Court have recently been approved by Hammersmith and Fulham Council. Designed by Heatherwick Studio, the new scheme hopes to attract major trade shows and includes a 1,500-seat theatre and 1,000-seat performance space together with a cinema, hotels, offices and studio for the creative sector. In all, the project covers some 186,000 sq m of floorspace and is at the pre-tender stage with construction work set to start in Spring 2020 and run for 36 months (Glenigan Project ID: 12319820).
Further East, the London Legacy Development Corporation has recently started procurement for the £22 million Sadlers Wells' theatre project on the huge £1.1 billion Stratford Waterfront Cultural and Education Development on the Queen Elizabeth Olympic Park. Mace Group is the management contractor on the scheme, where construction work is set to start towards the end of this year and continue for sixty months (Glenigan Project ID: 11380325).
Also on the Olympic Park, Mace has also been appointed by UCL as the management contractor on the new £94 million London College of Fashion building, where construction is set to start in coming weeks and run for 38 months (Glenigan Project ID: 16233366).
Projects in the pipeline
There are also some significant cultural projects in the pipeline in the capital. A Ziggurat-style design by the American firm of architects Diller Scofidio + Renfro – which was responsible for New York's High Line - has recently been unveiled for a new £288 million Centre for Music near the Barbican, which is intended to create a world-class concert hall for London.
The scheme is designed on a traffic island site currently occupied by the Museum of London, which itself is set to a new building in west Smithfield by 2023.