The COP26 conference and the renewed commitment by the UK and other governments to hasten the move towards net zero will have a major impact on key construction markets.
Whilst the messages coming from Glasgow will add fresh urgency to the UK construction industry's actions to cut emissions, it will also highlight the potential for additional new work particularly in housing repair and maintenance, building refurbishment and electricity generation and distribution.
The growth of electric vehicles has doubled over the past year to 280,000 and is set to rise dramatically in coming years ahead of the phasing out of new petrol and diesel cars from 2030.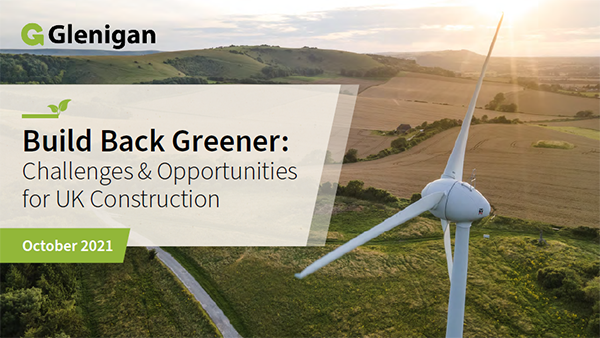 As the recent Glenigan report Build Back Greener: Challenges & Opportunities for UK Construction notes, a step change in the roll-out of new electric vehicle charging points will be needed to support growth in the sector.
To this end, the Government has pledged to invest £1.3 billion to speed up the roll out of charging infrastructure, with rapid charge points on motorways and major roads and more on-street charge facilities.
Yet there are already big opportunities in the sector. Glenigan has identified around 5,000 projects that include electric charge points over the past year, ranging from home installations to major new business and residential schemes.
The roll-out of fast electric vehicle charging networks is also creating significant packages of work for the industry. In Cambridge, consultants Ingleton Wood has recently been appointed to help build over 100 'ultra-fast' electric vehicle charging stations on major roads across the country for The EV Network.
Glenigan data shows that planning has been approved on the first scheme in the roll-out, a £600,000 hub at Kettering on the A14. Work is at the pre-tender stage and could start at the end of this year (Project ID: 21338422).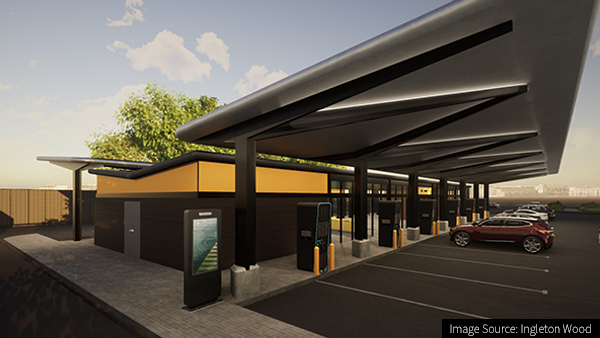 Traditional forms of building work will also be involved in the roll-outs. The hub at Kettering will involve a new forecourt with a café, rest area and facilities for drivers, alongside ultra-fast charging for 24 vehicles, a solar canopy and battery storage.
Developers and local authorities are also showing interest in the large-scale 'gigafactories' to produce batteries for electric vehicles which the government is keen to see built in the UK.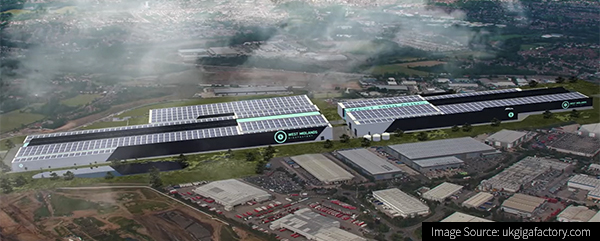 Outline plans have recently been submitted for a £650 million West Midlands gigafactory on the site of Coventry Airport which is being backed by the West Midlands mayor and where work could potentially start next year (Project ID: 21072515).
Refurbishing for the environment
In the light of COP26, the industry can expect a renewed push for developments which involve more refurbishment and renovation work rather than demolition and new build. Around half of a building's whole-life emissions typically come during demolition and construction and particularly the manufacture of steel, concrete and bricks.
As the Build Back Greener report notes, retrofitting of the existing building stock, to raise its environmental performance, will potentially be the greatest growth area for construction over the next decade.
In particular, commercial landlords may bring forward refurbishment works ahead of measures to require all rented industrial and commercial properties to be in energy performance certificate (EPC) band A or B by 2030. Currently just 17% are in the A or B bracket.
This trend should reinforce the rise in refurbishments which is currently underway as businesses and landlords look to adapt their office space to meet new ways of working post-Covid.
A rise in refurbishment projects is partly behind the 33% rise in the value of office project starts which Glenigan is forecasting for 2021 as the sector rebounds from a sharp fall in activity last year.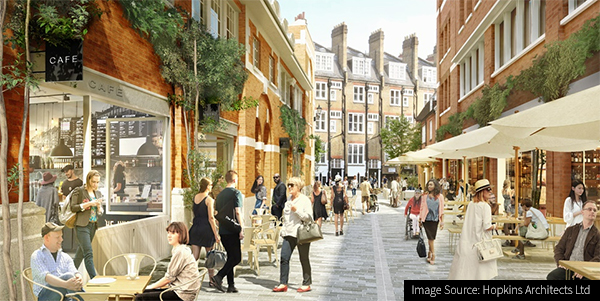 Refurbishment work forms a significant part of some major commercial projects in the pipeline. For example, detailed plans have been granted on Grosvenor Group's £500 million redevelopment of the South Molton Triangle in London's West End which involves significant refurbishment work, which is at the pre-tender stage with work due to start in late 2022 (Project ID: 18114855).
Opportunities for refurbishment work also feature heavily in the dozens of framework contracts detailed on Glenigan which are due to be let by both public and private sector groups.
Investing in home insulation
Major investment in home insulation will be needed to achieve the targets for heat pump installations which featured in the Government's Heat and Buildings Strategy published last month. With £5,000 grants available to householders for heat pumps from next April, the aim is to grow installation numbers from 90,000 units pa to 600,000 pa by 2028.
Smaller building contractors should also see significant new work opportunities stemming from the raft of measures highlighted in the government's Greener Buildings strategy; particularly the £1 billion committed to extend schemes such as the Green Homes Grant and, in rural areas, the Homes Upgrade Grant.
The scale of the potential workload is highlighted by government estimates that its green home finance initiatives could help to improve the energy efficiency of around 2.8 million homes, with around 1.5 million homes being brought up to EPC C standard by 2030. In all, the Government believes its actions will generate £11 billion of private investment in greener buildings in the 2020s.
Electricity generation sparks new work
The Government's ambitions to cut carbon emissions from electricity generation is inevitably a key theme ahead of COP26. For contractors, the renewed interest in nuclear energy offers one of the most promising areas for new work.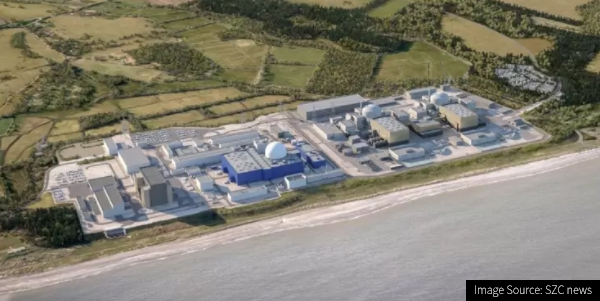 A go-ahead for at least one large-scale nuclear plant by 2024 is envisaged and significant investment in smaller modular reactors. A go-ahead for EDF Energy's proposed Sizewell C nuclear power station in Suffolk - involving two European pressurised reactors and a budget of £20 billion - would bring a huge volume of traditional construction alongside the engineering work (Project ID: 01611111). An Ernst & Young report suggests that the construction element of the project would be worth around £4.4 billion.
The schemes would include a £150 million freight railway line involving a continuous long welded track to bring most of the materials to the site by rail (Project ID: 21076638). Offshore works, an accommodation campus and numerous off-site developments are also envisaged as part of the project.
A green light for Sizewell C is awaited but the scheme is being eagerly anticipated by local business groups. The Suffolk Chamber of Commerce has launched a supply chain portal for firms in the region to take advantage of a pledge to spend £125 million per year locally during the 10–12-year construction process.
Opportunities from offshore wind power
Some of the 18 major overseas trade and investment deals secured at the recent Global Investment Summit in the run up to COP26 – and worth a total of £9.7 billion – will generate significant tendering opportunities for UK contractors.
Foreign investors are set to play a key role in sustaining the dramatic rise in the value of offshore wind projects as the sector expands to meet the government's goal to quadruple offshore wind capacity by 2030.
The pace of activity is already picking up sharply. The Build Back Greener report notes that the value of renewable projects started during 2021 is on track to total £5 billion, up 70% on last year and six times the value seen in 2019.
Spanish group Iberdola's plan to invest £6 billion in the East Anglia Hub offshore windfarms through Scottish Power will provide a further boost to activity in the sector.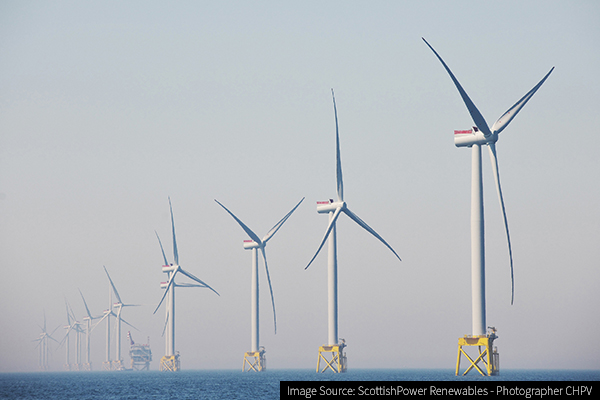 Glenigan data highlights the scale of the workload in the pipeline on offshore wind projects around the country. Team Van Oord and Heerema Marine are the foundation contractors which have been appointed on the £500 million East Anglia ONE North Offshore windfarm, some 36km off the coast of Lowestoft, where work is due to start next August (Project ID: 12382463).
Meanwhile, detailed plans have been submitted for Scottish Power Renewables £200 million East Anglia TWO offshore windfarm, which includes 75 wind turbine generators and significant onshore works and which is at the pre-tender stage (Project ID: 17283237).
Government help for the offshore sector will also include £160 million to be invested into ports and manufacturing infrastructure, in coastal regions.
Other new commitments secured at the Global Investment Summit which will provide new work for UK firms include US warehouse group Prologis's plans to invest £1.5bn to develop net zero carbon warehouses over the next three years across London, the South East and Midlands.
The investments will reinforce Prologis' role as one of the sector's leading clients in the buoyant industrial building sector and add to its busy development programme. Glenigan data shows that a pre-planning application has been approved for a significant Prologis UK scheme for commercial/industrial units at Hemel Hempstead involving 27,000 sq m of floorspace. The £31.1 million development is at the pre-tender stage and work is set to start next autumn (Project ID: 21329821).
The industrial building sector should also get a boost from Turkish-owned Eren Paper's plans to invest £500 million to acquire a mill in Shotton, North Wales and convert it to make cardboard from paper waste. Meanwhile, a Malaysian conglomerate Petra Group is to invest £30m in setting up a modular homes business.
Green transport potential
Plans to invest more in green public transport and cycling schemes highlighted in the Government's recent Ten Point Plan for a Green Industrial Revolution bode well for the workload prospects of smaller civils contractors.
The Government's plans to build 'hundreds then thousands, of miles' of segregated cycle lanes and create low-traffic neighbourhoods has involved some £250 million of spending in the sector this year and £2 billion over this Parliament.
Prospects for civils contractors will be reinforced by plans to invest 'tens of billions' in improving and renewing the rail network. This will involve restoring some of the links removed in the Beeching cuts and progressing the £2 billion Midland Rail Hub around Birmingham along with the Northern Powerhouse Rail project between Leeds and Manchester.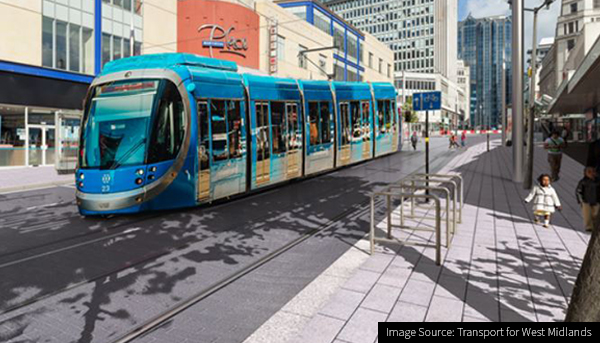 The recent Budget announcement of a £5.7 billion package for local transport networks in eight English city regions will further bolster construction prospects in the rail sector. The £1 billion of extra funding granted by the Chancellor for schemes in Greater Manchester bodes well for work on major projects such as Metrolink (Project ID: 20257574). Meanwhile, the £1 billion granted to the West Midlands will ensure the completion of the Wednesbury to Brierley Hill Midland Metro Extension (Project ID: 03181631).
Other stand-out rail schemes set to benefit from assistance in the Budget include the renewal of the Supertram in South Yorkshire (an area which gained an extra £570 million of transport funding in the Budget) and in Tees Valley (which secured £310 million of transport funding), work to upgrade Middlesbrough and Darlington stations as well as improvements to local rail links.
Glenigan customers can view detailed information on all projects mentioned in this article if part of your subscription.
Not a Glenigan customer but would like to leverage detailed project insights to grow your sales? Request a free demo of Glenigan today so we can show you the size of the opportunity for your business.