Election causes delays and hesitancy in public sector starts
Starts in the three months to July were 10% lower than a year ago

Non-residential project starts were 15% down on the same period in 2016, led by falls in retail, education and health projects
Residential starts were unchanged on a year ago
Civil engineering starts were 23% lower than a year ago, driven by a drop in infrastructure projects
The value of work starting on site in the three months to July was 10% lower than during the same period a year ago, according to the latest Glenigan Index. However, on a seasonally adjusted basis, starts were 6% higher than during February 2017 to April 2017.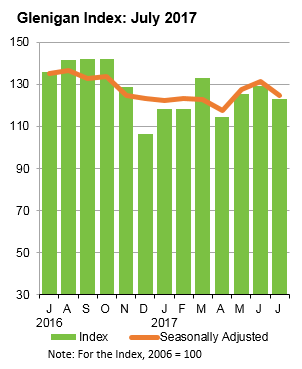 Commenting on this month's figures, Allan Wilén, Glenigan's Economics Director, said: "The year on year decline in project starts is in part due to decisions on public sector projects being temporarily delayed by the snap general election, with education, health, infrastructure and community & amenity sectors witnessing the sharpest declines. We anticipate that these delayed projects will bolster starts over the coming months as work gets underway post-election. Private sector starts have performed better, although there has been a weakening in a number of areas. 
"Overall non-residential projects were 15% down on a year ago, but on a seasonally adjusted basis were 7% up the preceding three months. The health sector has seen the sharpest decline, with starts down 59% both on a year ago and against the preceding three months. There were also double digit year on year declines in the education, community & amenity and retail sectors. These declines were accompanied by a 6% drop in office project starts. Industrial starts were also 9% lower, having been a growth sector since the opening months of 2017. In contrast, there has been strong growth in hotel & leisure work.
"Private residential starts plateaued during the three months to July, being little changed on the preceding three months or the level of a year ago. The stabilisation in project starts follows quieter conditions in the wider housing market. In contrast, there has been an encouraging upturn in social housing starts, which on a seasonally adjusted basis were 23% up on February to April 2017."
"Civil engineering starts were 23% lower than a year ago, driven by a drop in infrastructure projects as the snap election pushed back the commissioning of public sector transport projects."
There were sharp variations in project starts across the country. Whilst most parts of the UK have seen a decline, the value of project starts rose in the north of England, with year on year increases of 10%, 19% and 8% in the North East, North West and Yorkshire & the Humber respectively. The sharpest growth, however, was in the East of England, where starts were 60% up on a year ago.