With the commercial and industrial markets facing uncertain times, one of the more reliable sources of new work for the construction industry is the UK's universities.
The value of new underlying project starts (projects with a total value under £100 million) for universities was worth £641 million last year and the sector offers work opportunities for contractors both through new building programmes and frameworks.
A number of major contractors have recently pointed to significant construction projects for universities within their workload. Unveiling its results at the end of last year, Laing O'Rourke - which has longstanding links with the University of Oxford – highlighted its role as main contractor on the £185 million Stephen A. Schwarzman Centre for the Humanities at the university, where work is set to continue until summer 2025 (Project ID 21126120).
Other major contractors have been adding to their workload for universities. Kier Group is set to start work this spring on a £20 million refurbishment & extension of halls of residence at the University of Nottingham's Hugh Stewart Hall. Work on the project, involving 1,600 sq m of floorspace, is set to run for 19 months (Project ID: 21480357).
Although the pandemic and financial pressures have taken their toll on the value of project starts for universities, the longer-term outlook for the sector is brighter. The latest Glenigan Construction Industry Forecast 2023-2024 points to a 5% increase in university applications in 2022 and growing student numbers which are likely to translate into more capital investment by the sector.
Meanwhile, Glenigan data highlights numerous examples of significant mixed developments in the pipeline - particularly at the large Russell Group universities - which will generate significant construction contracts over the short and medium term.
At the University of Bristol for example, a preferred bidder is due to be appointed on the £43 million Temple Quarter mixed use campus (pictured) involving offices and academic buildings across over 48,000 sq m of space. Work is due to start this summer and run for 17 months (Project ID 16427608).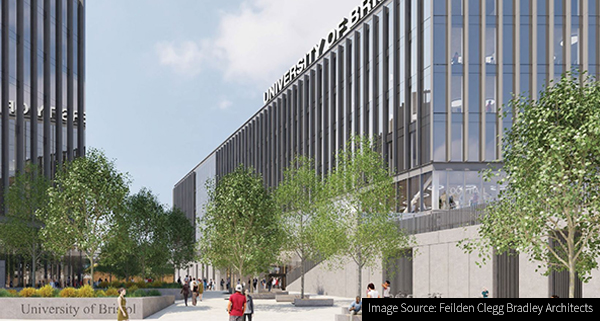 Meanwhile, the University of Warwick has recently submitted outline plans for a new £86.52 million social sciences building in Coventry involving some 32,000 sq m of floor space along with access roads and infrastructure. Work on the scheme is set to start in summer 2024 and run for 27 months (Project ID 23063822).
Research Park opportunities
The ambitions of major universities to create research parks adjacent to their campuses is also set to generate new contract opportunities. At Heriot-Watt University in Edinburgh, a development partner is being sought for a £200 million research park campus extension on the west side of the city, where it is envisaged some 10,000 jobs will be created. Work on the expansion of the university's Riccarton Campus could start in spring next year and run over the next decade (Project ID 23061615).
Universities with larger estates also offers significant opportunities for new contracts within continuing frameworks. Applications to tender for a framework agreement were submitted in late January for The University of Cambridge Major Construction Works Framework which is due to start next January, which is worth some £650 million over a four year period. The scheme involves lots covering contracts worth £2-12 million and above £12 million (Project ID 22465270).
Glenigan customers can see details of all new construction work for universities if part of your subscription.
Not a Glenigan customer, but would like to see detailed sales leads for new construction work for universities? Request a free demo of Glenigan today so we can show the size of the opportunity for your business.