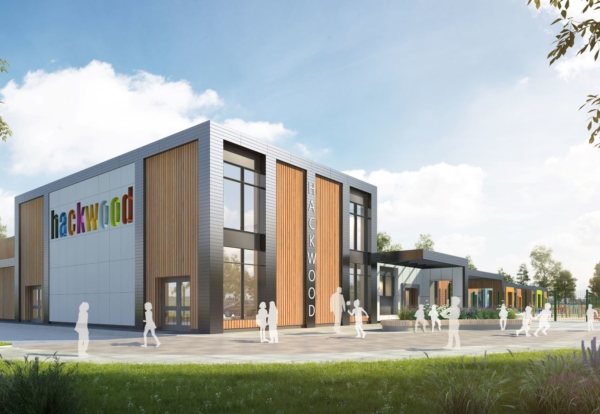 Image Source: Lungfish Architects
Construction for education is expected to withstand the worst of the downturn in the construction industry this year.
Glenigan expects the underlying value of education starts to slip marginally into decline in 2019, before rebounding next year.
"Universities' development plans and rising secondary school pupil numbers promise to drive investment in expanded and new higher education and secondary school facilities," explains Glenigan's economics director Allan Wilén.
The reason for this confidence is that the planning pipeline for the education sector is strong. After a 5% fall in 2017, the underlying value of education projects securing planning permission rose by 13% last year.
Schools and universities
University work in the pipeline is particularly buoyant. Construction industry research produced by Glenigan last year showed that the Russell Group of 24 leading universities had secured planning permission for £950 million-worth of work in the 12 months to Q2 2018 alone.
More schools work is also coming on stream but through smaller schemes.
In 2018, the Department for Education (DfE) awarded just over £1 billion-worth of contracts for construction work according to Glenigan's research. This total was up 74% on 2017 and makes the DfE the industry's third biggest client.
The DfE is starting to focus on slightly smaller projects with the average contract awarded in 2018 falling to £8 million from £8.8 million in the previous year.
Despite a slight fall in starts in the education sector as a whole, the value of school projects starting on site rose by an estimated 9% in 2018. In the first 10 months of 2018, there was also a 34% rise in detailed planning approvals for schools.
Glenigan expects a rise in schools projects starting on site of 8% both this year and in 2020.
Short turnaround
In the short-term, the education sector is unlikely to see any major growth but the strong pipeline of work with approval augurs well further out.
Mr Wilén adds: "We expect political uncertainties and funding restrictions to continue to delay the realization of new projects, but the education sector has the shortest median gap between projects receiving planning approval and starting on site of any building sector."
Glenigan's construction industry research shows that, on average, projects in the education sector take only 19 months between securing planning permission and construction work commencing.
So, while this year may see a lull, 2020 will see a recovery and the need to accelerate school projects can be seen in the increasing number of modular schools projects getting the go-ahead.
Morgan Sindall is using the Sunesis Mosaic modular model to build a £5 million primary and nursery school at Hackwood in Derby, while off-site specialist Extraspace recently landed a contract to build three education projects in Oldham.
While education may withstand the worst of Brexit, some concerns over this impact do exist.
Mr Wilén concludes: "We believe that increased university investment and rising pupil numbers promise to drive investment in expanded and new higher education and secondary school facilities over the next five years, but this will be tempered by a threat to university budget's due to the implications of research funds from Brexit."