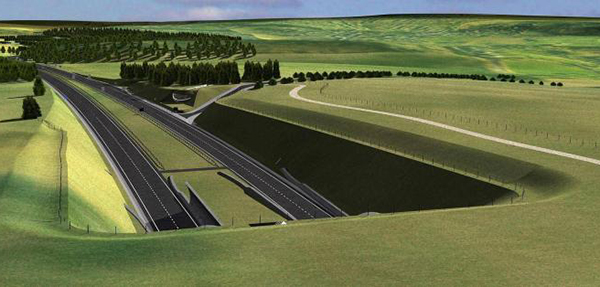 The £1.6 billion A303 dual carriageway under Stonehenge
The medium term outlook for civil engineering construction orders is brightening.
Both Glenigan construction industry data and recent announcements from major quoted contractors point to an improving flow of new construction orders for roads, rail and water-related work.
Meanwhile, beyond the chaotic political scene, one theme to emerge from the Chancellor's Spring Statement earlier this month is a continuing emphasis on boosting infrastructure spending.
The civil engineering sector has had a mixed time recently. Glenigan Construction data shows the value of new infrastructure starts fell by 10% last year. But looking forward, the value of detailed planning approvals for underlying infrastructure projects rose by an encouraging 50% in 2018, with marked increases in the regions outside London.
Planning approvals surge
Glenigan Construction data shows the value of infrastructure planning approvals surged upwards by 87% in the East of England in 2018 compared to the previous year, by 81% in the East Midlands, by 37% in the North East, by 56% in the South East and by 166% in the South West.
Continuing pressure on local authority budgets is likely to the impact of the upturn in approvals on activity this year. But it should translate into higher civils workloads next year. Glenigan is forecasting quarterly increases in infrastructure construction starts throughout 2020.
Meanwhile the major quoted contractors were upbeat on the prospects for the infrastructure sector in their recent financial results. Balfour Beatty reported an 11% rise in the value of its order book to £12.6 billion.
It also pointed to a strong pipeline of major infrastructure projects in transport and energy, notably on HS2, Hinkley Point C, Highways England's road investment strategy and expansion at Heathrow. In the rail sector, Balfour Beatty was selected earlier this month as preferred bidder for Network Rail's £1.5 billion Central Track Alliance contract.
Costain also sounded a positive note when it reported a record £4.2 billion order book, with over 90% of it coming from repeat business. As clients consolidate their supply chains, the group says it is working on more long term collaborative multi-billion pound construction projects.
Key programmes for the group include the £25 billion Highways England Road Period 2 covering 2020-25, the AMP7 programme in the water sector involving total capital spending of some £50 billion and Network Rail's record £47 billion Control Period 6 over 2019-24.
Elsewhere, Keller, the world's largest ground engineering contractor recently highlighted some major UK infrastructure projects which are developing, including HS2. It expects the market for geotechnical work to pick up noticeably towards the end of 2019 and extend well into 2020 and 2021.
Prospects reinforced by Spring Statement
The Chancellor's Spring Statement also reinforced the prospects for more construction-related infrastructure spending. It announced an extra £262 million for a Borderlands Growth Deal, which comes on top of the go-ahead for the £102 million Carlisle Southern Link Road, where work is set to start in spring 2020 (Glenigan Project ID: 182 23437).
Other major Highways England civils projects in the pipeline include the 1.6 billion A303 dual carriageway under Stonehenge which is at the pre-tender stage and where work is set to start in spring 2021 (Glenigan Project ID: 93148284).
The Spring Statement also highlighted the £60 million to be spent in ten cities around the country from the Transforming Cities Fund. This will involve construction on 30 schemes such as new cycle lanes and road improvements in urban areas including, the North East Combined Authority, Plymouth and Southampton.