One area where developers are showing growing interest is the workplace campus. This usually involves new offices alongside retail and leisure space and often comes with attractive outdoor grounds where staff can take time out away from work.
An increasing number of campus-style developments are getting underway, particularly in London and the South East, which are creating some good contract opportunities often on projects which extend over some years.
Shares in British Land, the country's second largest quoted property group, have been buoyant recently as investors have warmed to the wider prospects for the campus-style office developments which are its speciality. The company's three London campuses - at Broadgate, Regent's Place and Paddington Central - combine high quality office space with good amenities and attractive surroundings and have all proved popular with tenants.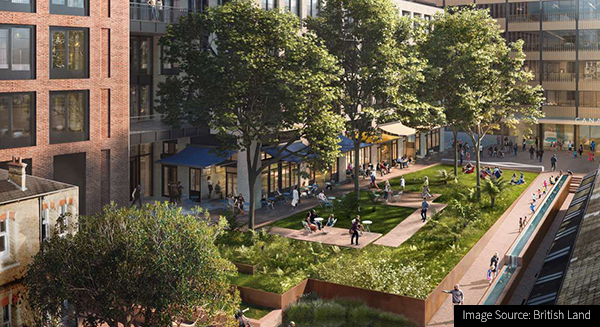 Today, British Land is developing a fourth campus at Canada Water in London's Docklands, where it has planning consent for 5 million sq ft of space across 53 acres. Work got underway last autumn on a £186 million phase one project on the scheme involving a 34-storey building along with retail and workspace and some 186 flats. Wates is the main contractor and construction is set to continue until 2024 (Project ID: 18374937).
Development pipeline
With the level of leasing on its campus sites at a ten-year high, British Land is on site with some 1.7 million sq ft of new developments across its campuses and has a total campus development pipeline of some 8.6 million sq ft of space.
Meanwhile, the company's plans to replicate its campus model in other innovation clusters around the so-called 'Golden Triangle' of London, Oxford, and Cambridge, are seen as particularly promising. In its latest financial year, the company acquired £102 million of assets linked to growth and innovation, including Peterhouse Technology Park in Cambridge and The Priestly Centre in Guildford.
At The Priestly Centre, British Land plans to apply its campus formula on a 7.8-acre site on Surrey Research Park to create new space for growth tech sectors such as satellite, life sciences, video games and digital. Construction work on a £10 million refurbishment at the location is due to start later this autumn (Project ID: 22072038).
Expansion on campus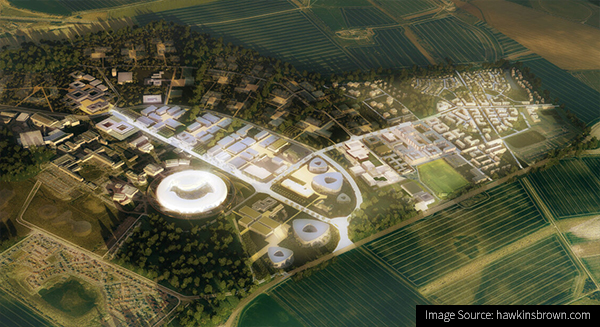 Elsewhere, expansion on existing campus-style developments is also creating new work opportunities for contractors. At the Harwell Science and Innovation Campus – a base for over 200 organisations spread across 700 acres in Oxfordshire – construction work started earlier this spring on the £31.7 million phase 2 of the National Quantum Computing Centre. The project, where Wates is the main contractor, will create 4,500 sq m of space and will run for 17 months (Project ID: 20377776)
The campus concept is being extended elsewhere in the technology sector. ISG Construction has recently been appointed to a new data centre campus development, the £45.96 million London 4 Data Centre in Hillingdon which involves 13,530 sqm of new space. Work is set to start this autumn and run for 24 months (Project ID: 21507601).
Campus-style developments in the health sector are also providing a significant workload for contractors. Work on one of the largest developments in the sector, the £260 million Watford Health Campus, a public, private partnership involving a hospital development, flats, a hotel, a school, and a multi-storey car park, has been underway since 2015. But with work set to continue until 2030 it will offer continuing new opportunities (Project ID: 04432772).
Glenigan customers can see details of new campus-style developments if part of your subscription.
Not a Glenigan customer, but would like to see detailed sales leads for new campus-style developments? Request a free demo of Glenigan today so we can show the size of the opportunity for your business.