The Build to Rent sector continues to be a bright spot for the UK construction sector providing opportunities for contractors.
With higher mortgage rates and a mixed economic outlook putting new house sales under pressure, one continuing bright spot for the construction industry is the Build to Rent (BTR) homes sector.
According to a recent report from Savills, UK Build to Rent Market Update, the supply of new rental homes is failing to keep pace with soaring demand, particularly as smaller, private buy-to-let landlords pull out of the market in the face of tighter regulations and higher interest costs.
This in turn should mean continuing healthy demand – and positive new work prospects – for larger scale, institutionally-funded BTR developments across the country.
Positive work prospects
Over £5 billion was invested in the UK BTR sector in the year up to last September and in the third quarter alone, the funds flowing into the sector were up 75 per cent on the period a year earlier. Whilst uncertainty and higher interest rates have cast doubt on all property sectors recently, Savills says BTR deals 'continue to progress'.
The work prospects in the sector also appear positive. Before Christmas, the BTR stock stood at 76,800 completed homes with a further 49,800 homes under construction. In all, the future pipeline stands at 113,500 homes, including those in the pre-application stage.
One promising sector of the market is single family rental (SFR) homes where there are around 15,000 units in the pipeline, more than double the level of a year ago. SFR schemes are also getting bigger; the typical size of an existing development has increased to 77 homes whilst new sites under construction average 94 homes and those at the planning stage typically involve 103 homes.
Opportunities up north
The opportunities in BTR are strong in northern UK cities with large and growing student populations. Manchester, Edinburgh, Birmingham, Liverpool and Leeds all have large student numbers but face an under-supply of both purpose built student accommodation and buy-to-let housing.
Cities such as Glasgow, Belfast and Manchester have high a proportion of young graduates who want to live close to their place of work, which in turn bodes well for the demand for rental homes.
Glenigan data provides numerous examples of BTR developments across the country which reflect these trends and where work is due to start in coming months.
In Manchester, detailed plans have been submitted for a £107.7 million development at Albert Bridge House (pictured) involving some 367 BTR flats, alongside a 19-storey office block. Construction work on the scheme for client Oval Real Estate is at the pre-tender stage and could start early next year (Project ID: 22351024).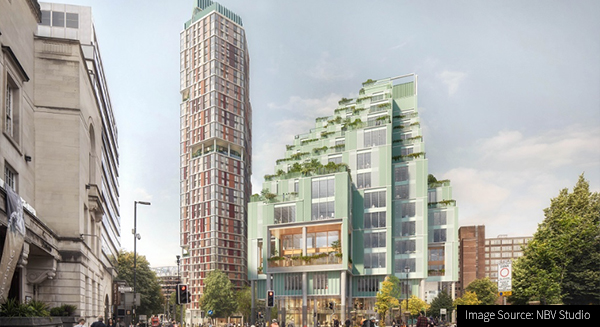 Meanwhile in Birmingham, detailed plans have been granted for a significant £70.6 million BTR development at Lower Essex St involving a total of 642 flats (split between 322 one-bed, 301 two-bed and 19 three-bed homes) and a commercial unit. Galliard Homes is the main contractor on the scheme which involves almost 1,900 sq m of space in three residential blocks and where work is set to run for 30 months (Project ID:19298430).
Glenigan data also highlights BTR developments involving traditional new homes suitable for families. In Chesterfield in the East Midlands, Avant Homes is due to start work this summer on a £60 million scheme of nearly 250 houses at the town's Earls Park in a BTR development across an 11.3 hectare site. Work on the scheme is set to run for 20 months (Project ID: 18298044).
Glenigan customers can see details of all new Build to Rent construction projects if part of your subscription.
Not a Glenigan customer, but would like to see detailed sales leads for new Build to Rent construction projects? Request a free demo of Glenigan today so we can show the size of the opportunity for your business.