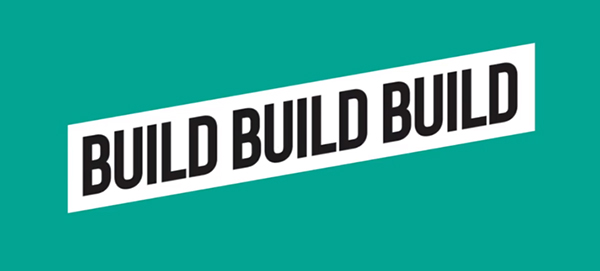 PM Boris Johnson has announced plans to build, build, build with the most radical reforms to our planning system since the Second World War, making it easier to build better homes where people want to live.
Mr Johnson says now is the time to be "ambitious" about the UK's future, as he set out a post-coronavirus recovery plan, which will include changes, investment and opportunities for the UK construction industry. To see where opportunities will be for your business, download the Glenigan Construction Industry Forecast for 2020 - 2022 released today.
Planning Reform

Tearing up planning rules to kick-start the UK's economic recovery.
The PM pledged the 'most radical reforms' of planning since WW2 to build 'faster, greener and better' and help more people, particularly young people, get on the housing ladder. These new changes are planned to come into effect by September.
Changes to planning rules include:
A wider range of commercial buildings will be allowed to change to residential use without the need for a planning application. This will give greater freedoms for buildings and land in town centres to change use without planning permission and create new homes from redundant buildings. Which would also benefit and kick-start a revival of high streets which are particularly affected by the lockdown.
Builders will no longer need a normal planning application to demolish and rebuild vacant residential and commercial buildings if they are rebuilt at homes.
Property owners will be able to build additional space above their properties via a fast-track approval process. This would be subject to neighbour consultation.
More types of commercial premises having total flexibility to be repurposed through reform of the Use Classes Order. For example, a building used for retail would be able to be permanently used as an office without approval or planning permission. Some things, such as pubs and libraries, will not be covered by this.
The Prime Minister used the examples of UK public procurement taking 50% longer than in Germany and UK capital costs typically between 10% and 30% higher than other European projects. In 2018, the UK built 2.25 homes per 1000 people, whereas in Germany it was 3.6, the Netherlands 3.8 and France 6.8.
'Build, Build, Build'
The PM also announced that billions would be injected into public projects such as schools, roads, railways and hospitals for an 'infrastructure revolution' to create jobs and fix the economy. The PM promised to 'build back better and to build back bolder'.
Plans set out in the conservative election manifesto in 2019 will be speeded up and intensified, to deliver the following:
£5bn was announced in capital investment to accelerate infrastructure projects throughout the year. The PM compared this pledge to that of FDR in the 1930s calling it a 'New Deal'.
Infrastructure projects in England will be 'accelerated' and there would be investment in new academy schools, green buses and new broadband.
The total £5bn of capital investment set out by the prime minister will include:
£1.5bn for hospital maintenance to end the need for mental health dormitories and improve A&E capacity
More than £1bn towards 50 projects that form the first part of a 10-year school rebuilding programme
£900m for a range of "shovel ready" local growth projects in England
£560m for repairs and upgrades to schools and £200m for further education colleges
£142m for upgrading the digital connections of about 100 courts
£100m for 29 road network projects, including bridge repairs in Sandwell, West Midlands, and improvements to the A15 in the Humber
£96m to the Towns Fund to boost investment in town centres and high streets
£83m for maintenance of prisons and youth offender facilities, and £60m for temporary prison places
£10m to remove bottlenecks on the Manchester rail network
These measures come alongside a package of measures to support home building across England. These include:
A £12bn affordable homes programme that will support up to 180,000 new affordable homes for ownership and rent over the next 8 years, confirmed today
Included in the programme will be a 1,500 unit pilot of 'First Homes': houses that will be sold to first time buyers at a 30% discount which will remain in perpetuity.
Funds from the £400m Brownfield Land Fund have today been allocated to the West Midlands, Greater Manchester, West Yorkshire, Liverpool City Region, Sheffield City Region and North of Tyne and Tees Valley to support around 24,000 homes.
The Homes Builders Fund to help smaller developers access finance for new housing developments will receive an additional £450m boost. This is expected to support delivery of around 7,200 new homes.
More things to come...
The Chancellor is to provide an update on the economic situation next week.
The full national infrastructure strategy, focused on the long-term plans for the country's energy networks, transport infrastructure, flood defences and waste handling will be published in the Autumn.
To see where opportunities will be for your business, download the Glenigan Construction Industry Forecast for 2020 - 2022 released today.