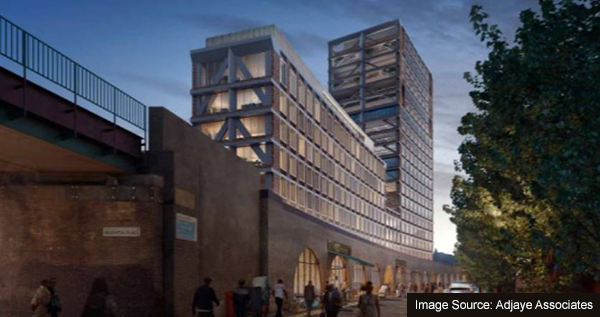 London office buildings development activity has been disrupted this year by temporary site closures and a drop in the demand for office accommodation. However, new data identifies a surge in planning approvals, revealing developer expectations of a rising demand for high quality office accommodation over the medium term and paving the way for a resurgence in new office buildings for the Capital as confidence returns.
Analysis of planning approvals for new London office buildings by Glenigan, shows that the office development pipeline is rising rather than falling.
Data for 2020 to the end of November identified that planning approvals for the office construction sector in London rose 39% against the first eleven months of 2019 figures, adding £2,130 million to the development pipeline.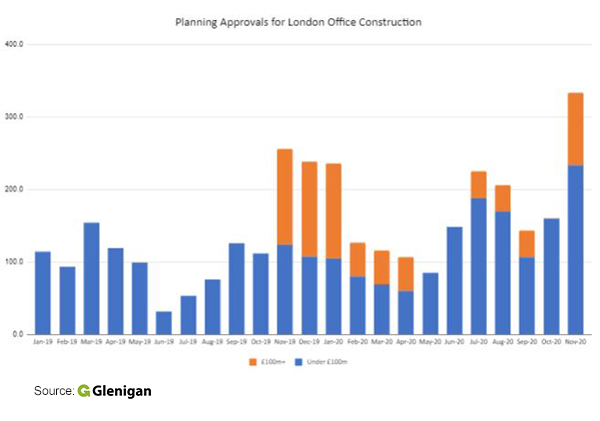 The Capital is dominating the development pipeline, accounting for 35% of all office sector-approvals this year.
Other parts of the U.K. have also seen a rise in planning approvals in recent months. Office developments with a total project value of over £100 million saw the greatest growth at £990 million during the three months to November, double the level of a year ago. The value of office developments with a project value of under £100 million totalled £1,659 million during the same period, a 10% rise against the preceding three months and an increase of 70% over the same period a year ago.
Allan Wilen, Economics Director, Glenigan commented: "The sustained rise in London office projects securing planning consent this year is encouraging. However, many of these projects will have been conceived prior to the pandemic. We expect that developers may wish to appraise how tenants' office requirements are likely to evolve post-Covid and to seek a high level of pre-letting before proceeding with planned projects. Near term we anticipate that office construction activity in 2021 will be lifted by an increase in office refurbishment work as firms remodel existing premises to adjust for more remote working and to create more collaborative spaces."
Glenigan customers can view all new and ongoing office opportunities as part of their subscription.
Not a Glenigan customer but would like to take advantage of this growing sector? Please request a free demo where we can show you more details on projects of interest to your business.
PR contact:
Rick Stephens (Content Marketing Lead)
T: 01202 786 859 │ E: rick.stephens@glenigan.com