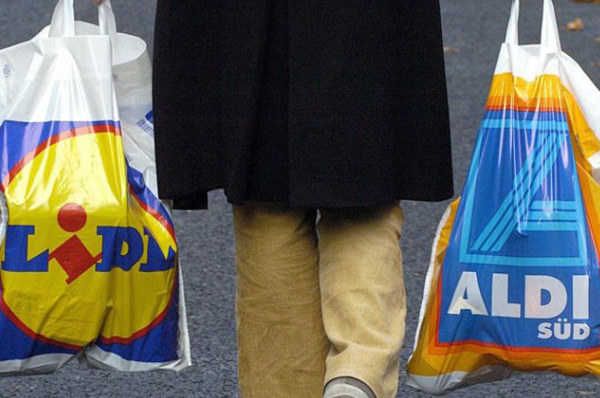 A spending boom by Aldi and Lidl is benefiting regional contractors.
The two German discount supermarkets are building hundreds of new stores and discount warehouses across the UK and are among the construction industry's top 20 clients according to Glenigan's construction market research.
Aldi plans to build 130 new stores over the next two years, including eight in Scotland to take the group's outlets north of the border to 93 by the end of this year.
In 2018, Aldi was one of the fastest risers in Glenigan's ranking of the construction industry's top 100 clients after awarding £228.9 million-worth of contracts. This figure was more than double the total for 2017 and lifted Aldi from 77th position up to 19th place in 2018.
Lidl was one place lower in twentieth place in the 2018 top 100 after letting £228.1 million-worth of work and is undertaking a major expansion around London.
In 2017, Lidl announced plans to spend £1.45 billion on building up to 60 stores over the next two years and more than 20 retail warehouses around the M25.
Overall, the top 10 grocers awarded £818 million-worth of construction contracts in 2018, which was down 3% on the previous year.
Aldi and Lidl were responsible for 56% of the latest total construction spend, but the only other leading supermarket chain to feature in the top 100 is the Co-operative Group in 35th place.
The other four leading supermarket chains – Asda, J Sainsbury, Tesco and Wm Morrison – are fading from view as clients on major projects.
Developers working on retail-led projects such as Roxhill feature amongst the construction industry's leading clients but no other grocery chain features in the latest top 100.
Smaller and smaller
Aldi and Lidl are spending more than the four traditionally biggest supermarkets, but most of the leading grocers have one strategy in common.
The days of spending on major out-of-town stores has gone and the focus is now on smaller projects.
Among the top 10 grocers, Aldi is, on average, building the biggest projects according to Glenigan's construction market research.
The average size of construction contracts being awarded by Aldi has more than doubled between 2017 and 2018 in line with the group's construction spend, but in 2018 the average major contract awarded was still only valued at just under £3.5 million.
German rival Lidl and the other leading grocers undertook far smaller building projects and many have got smaller.
Wm Morrison, John Lewis, Marks & Spencer and Tesco all commissioned smaller construction projects in 2018 than in 2017 according to Glenigan's construction industry's analysis.
Even though the size of the average contract let by Iceland leapt by 45% last year, this was only to just over £700,000, which was the smallest among the top 10 grocers.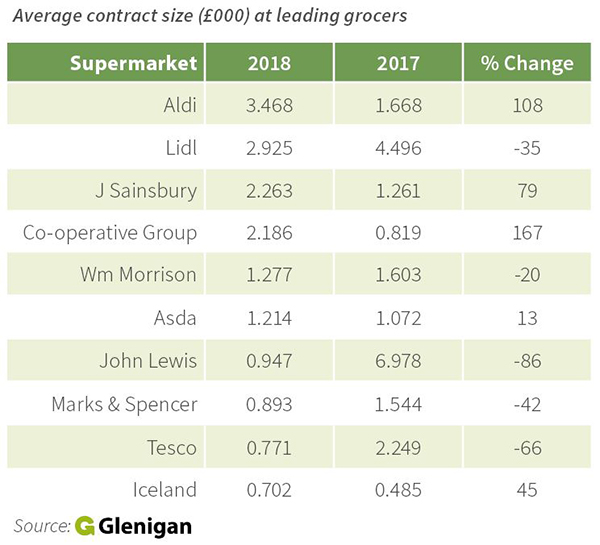 Small is good
This shift towards smaller contracts and developments is benefitting small-to-medium sized (SME) regional contractors, such as Stepnell.
The Rugby-based contractor's appointment by Lidl last year to build a £3 million 2,460 sq m store in Loughborough was the fifth project awarded to Stepnell by the German supermarket.
Glenigan's construction research shows a host of other SME contractors, such as Adston, Camford and Projekt Construction, also working for the two German retailers.
Dawnus worked regularly for Lidl and the Welsh contractor's slide into administration in March will open up more opportunities for SME contractors as the two German discounters roll-out their sizeable construction programmes.