Government investment is boosting the market for air source heat pumps with £409 million being ploughed into helping 144 public sector buildings drive down their carbon emissions by shifting away from gas boilers.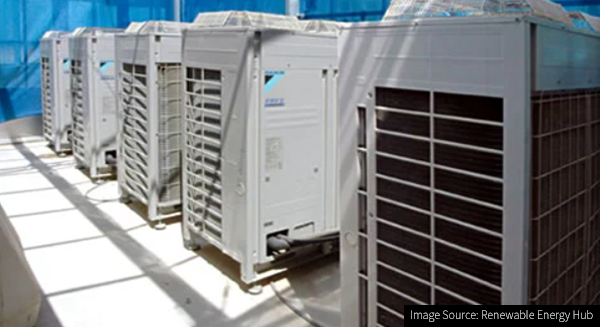 Recent Ofgem figures show only £60 million of a £150 million fund to help households move away from gas boilers has been used, but the Department for Energy Security and Net Zero's Public Sector Decarbonation scheme is likely to have more impact.
This fund will help buildings such as council offices, schools, and hospitals as part of the government's commitment to a 15% cut in overall UK energy demand by 2030. Grants started to be distributed in April 2023 and Glenigan's construction market research is tracking these projects.
Local authorities to benefit include Ashfield District Council, which has been awarded £2,012,134 for two projects to install heat pumps, including one at the main council office at Kirkby-in-Ashfield (Project ID: 22277768).
Air source heat pumps will also be part of a package of energy efficiency measures, including LED lighting with controls, new air handling units, building energy management systems, wastewater heat recovery for showers, and motor replacements installed at the Hucknall Leisure Centre, where a £2.5 million extension has only just finished (Project ID: 21463918)
Another winner is South Norfolk District Council, which has been allocated £2,037,662 to install heat pumps at Diss Leisure Centre and the council's headquarters at Horizon Centre, and a ground source heat pump at a sheltered housing facility (Project ID: 22363535).
Education boost
The investment is part of government plans to have 600,000 heat pumps installed every year by 2028 and is also helping education establishments move away from gas boilers to heat pumps.
Bedford College Group has been awarded £2,515,001 to support the decarbonisation of three buildings at its Shuttleworth Campus, including the learning resources centre, Russell Hall and foyer, and one of the halls of residence. Heat pumps will be installed along with energy efficiency measures including roof, wall, and window insulation upgrades. Glenigan's construction industry research shows that a detailed planning application has been submitted (Project ID: 23029842)
MidKent College has been granted £5,010,254 to decarbonise their two campuses at Medway and Maidstone in Kent. Existing gas boilers will be replaced with ground source heat pumps at Maidstone and air source heat pumps at Medway. Solar panels will also be added plus building energy management systems (Project ID: 23120627).
Healthy boost
A number of NHS trusts have also benefitted from grants from the Public Sector Decarbonation scheme.
The University Hospital Southampton NHS Foundation Trust has won £29,378,664 to support the decarbonisation of Southampton General Hospital and Princess Anne Hospital, including installing heat pumps, to produce annual savings of £2 million a year (Project ID: 23120620). The hospital's existing energy centre contract is due to expire in 2024 and the trust is now in the process of procuring new suppliers.
Other NHS trusts to benefit include Salisbury, which received £10 million to upgrade its heating including replacing gas boilers with water and air source heat pumps at the city's district hospital (Project ID: 23094942).
While domestic take-up may be slow, these grants should increase the number of heat pumps installed across the public estate.
Glenigan customers can see details of projects requiring air source heat pumps in the 'Materials' tab under 'Heating' .
Not a Glenigan customer, but would like to see detailed sales leads for new projects requiring air source heat pumps? Request a free demo of Glenigan today so we can show the size of the opportunity for your business.