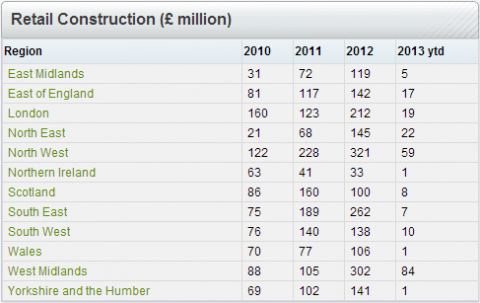 Underlying value of construction projects starting on site. (Excludes individual projects of more than £100 million and framework agreements).
Investment by the major supermarket chains has been the main engine for sector growth in recent years. Whilst this continued during 2012, the flow of project starts lost momentum as the year progressed. This reflects decisions by Tesco and Sainsbury to scale back their investment programmes, with fewer large stores being developed as resources are directed towards expanding their convenience store networks and the refurbishment of existing premises.
Other parts of the retail sector remain under pressure from weak consumer demand and competition from the supermarkets and on-line retail sales. Vacant retail space has continued to rise as retailers close and others rationalise their outlets.
Accordingly, whilst retail project starts rose 17% the flow of work slowed during the course of the year as the supply of supermarket work dropped. The value of retail project starts during the final quarter was down by a third on a year earlier, while planning approvals during the three months to November were 19% lower. Our outlook for the sector remains subdued going into 2013.